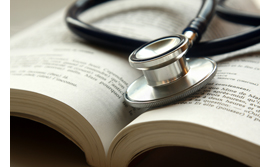 Lone Star College-CyFair's Medical Assistant 2011 graduating class has not only made history but set the standard for future classes.
"This is the first Medical Assistant class to achieve this distinction in the history of our Lone Star College System Medical Assistant programs," said Dr. Cynthia Griffith, Dean of Health and Behavioral Sciences. "We are very proud of their accomplishments as this class of 14 students had a 100% cohort retention rate and 100% credentialing pass rate on first attempt of the CMA exam."
Under the leadership of Program Director Gina Scott recently, 14 students obtained a 100% pass rate on the Certified Medical Assistant (CMA) American Association of Medical Assistants (AAMA) credentialing examination.
"The national average pass rate for first time takers is 67%, so 100% pass rate is few and far between," said Scott. "When that last person called me to say she passed it. I was elated!"
Scott said she knew all 14 would pass if they actually took the exam. This year, a $1,750 donation removed the barriers, such as the $125 exam fee, that prevent some students from receiving their certification immediately after the semester's end. Scott also provided a review class and urged students to take the exam sooner than later.
"I told my class 'I know from what I teach you that you can take this test and pass it. I believe that much that you will do well,' and they did," Scott said. "I'm ecstatic about it and really proud of them."
While certification is not required to be hired, Scott said, smaller doctor's offices strongly recommend Medical Assistants get certified within six months as do most major clinics.
"It's good because first of all, they will be well prepared and secondly, doctors are more apt to hire a certified employee vs. a non-certified employee," she said. "And the salary is higher with certification."
Medical Assistants are among the top 10 jobs in demand, said Scott, who's had 92% of students hired off their externships at area facilities such as Kelsey Seybold, HSE Medical Associates and Fairfield Family Physicians. And even though it's not necessarily tops among allied health jobs in pay, her students can get work and then go back to school to become a nurse or radiologic technician.
"I don't feel like my job is completed as an instructor unless they have passed the exam and they have jobs," said Scott. "When that is done, not when they graduate, then I feel like I have a success story."
LSC-CyFair's Medical Assistant Program, accredited since 2007, prepares students to be multi-skilled allied health professionals specifically trained to work in ambulatory settings, such as physician offices, clinics and group practices, as well as to perform administrative and clinical procedures and laboratory skills. Emphasis is placed on a number of skills such as patient preparation, specimen collection and testing, CPR and first aid, electrocardiograms, medical insurance and coding, medical law and ethics, anatomy and physiology.
For information, contact Scott at 281.290.5274 or by e-mail at Gina.R.Scott@LoneStar.edu.