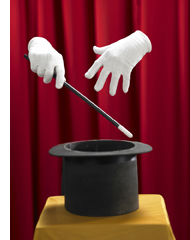 Join world-renowned magician and comedian Harry Maurer to hear how magicians influenced world leaders and changed history in "The Perfection of Deception" set Wednesday, Jan. 25 at Lone Star College-CyFair.
Did you know Houdini was a spy for the U.S. Secret Service? Come discover how he and other magicians used their unique talents in unexpected ways from averting political uprisings and helping write "Manuals of Deception" for the CIA to using magic to aid with pre-war information and to win a decisive World War II battle.
Maurer's unique insights allow him to explore the colorful lives of historic magicians and discuss how they changed the course of history in ways one would never have imagined. He may even have a few tricks up his sleeve for this multimedia extravaganza.
This unusual and free presentation, which is part of the college's Learning, Inspiration, Fellowship, and Enrichment (L.I.F.E.) programs, will be held from 10 a.m. to 11 a.m. in the Recital Hall, room 102, in the Center for the Arts building on the Barker Cypress campus at 9191 Barker Cypress.

Co-sponsoring this program are LSC-CyFair's Windows on the World and LSC-CyFair Branch Friends of the Library. Call 281.290.3214 for information on upcoming L.I.F.E. programs.