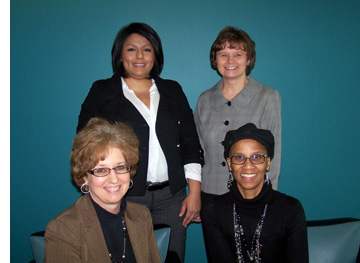 Congratulations to the Lone Star College-CyFair's Staff Excellence Award winners Cristina Barron, Diane Broussard, Kayla Kilgore and Sony Simon for their outstanding contributions to the college and vision of excellence.
Barron began working at LSC-CyFair's Barker Cypress campus as a Student Support Specialist III in 2006 and held Staff Assistant I and then Staff Assistant II positions until she became Division Coordinator for Division VI: Social Sciences and Advanced Technology in 2008.
Broussard began working at the LSC-Fairbanks Center as an Assistant Program Coordinator for Discovery College (summer camp for children ages 6 – 15) in June 2009 and has been Staff Assistant at this satellite location since October 2009.
Kilgore began working at the Barker Cypress campus in Division III: Arts and Communications in a temporary part-time position in 2003, transferred to a part-time position in Student Services and returned to Division III where she's been a Staff Assistant since 2008.
Simon began as a Payroll Specialist at LSC-Kingwood in 2008, transferred to Division Coordinator for Division II: Science and Public Services at LSC-CyFair's Barker Cypress campus in 2009 and was recently promoted to Division Coordinator for Academic Affairs.
All four of these dedicated staff members will be among those recognized at a college-wide awards event later this spring.
For information on LSC-CyFair and LSC-Fairbanks Center, go to LoneStar.edu.