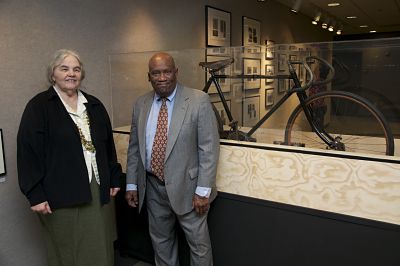 Lone Star College-North Harris is celebrating Black History Month with a series of free events throughout February, including a presentation by Dr. Tom Curry, Texas A&M professor of philosophy, and two exhibits honoring African-American trailblazers.
"We would like to engage all of our students and community with the message that black history is American history due to the accomplishments of African Americans," said Cassandra Boyd, Program Coordinator for Diversity Initiatives. "We encourage everyone to attend these events to honor the many contributions of African-Americans who overcame adversity like so many other American citizens."
On Feb. 29 at noon, Dr. Curry, an expert in the history of African-descended people and their role in the origins of prominent Africana traditions, will present "Tolerance, Conformity and Race in Post-Civil Rights America." His presentation will focus on the argument that white tolerance of blacks and black conformance to white culture should not be seen as the final goal of the civil rights movement. The event will take place in room 126 of the college's Academic Building.
Dr. Curry has an extensive background in philosophy and holds a Ph.D in the field from Southern Illinois University Carbondale. His work spans across the various fields of philosophy, jurisprudence, Africana studies, and gender studies. Though trained in American and Continental philosophical traditions, his primary research interests are in critical race theory and Africana philosophy.
Two exhibits, both featuring pioneers of their time, are also on display as a part of the Black History Month activities.
Through Feb. 17, visitors can enjoy a tribute to America's first world-champion, African-American athlete. In 1899, at the age of 21, Marshall Walter "Major" Taylor set seven world records as an elite cyclist and continued to dominate the sport until his retirement in 1910. The exhibit features photos and documents from Taylor's career, as well as his actual racing bike and showcases the history behind his record-setting accomplishments. The exhibit is housed in the Library Gallery located in the first floor of the LSC-North Harris Library Building.
An additional display honoring the Tuskegee Airmen of World War II may also be viewed on the second floor of the library building until the end of February. It includes various artwork and memorabilia, as well several of the books that have been written about their contributions to the war. The group flew in air combat over North Africa and Italy during World War II and had one of the most distinctive records of all the WWII air squadrons. Nicknamed the "Red Tails" by the U.S. bomber crews they protected; their story is now the subject of a major motion picture. Members of the Tuskegee Airmen have visited LSC-North Harris to share their stories with students and the community annually for the past seven years.
All of the college's Black History Month events are free to attend. For more information and a complete listing visit LoneStar.edu/BlackHistoryMonth.
Lone Star College-North Harris is located at 2700 W.W. Thorne Drive, one-half mile south of FM 1960 East, between Aldine-Westfield and Hardy Roads. Call 281.618.5400 or visit LoneStar.edu/NorthHarris for more information about the college.
With more than 75,000 students in credit classes for fall 2011, and a total enrollment of more than 90,000, Lone Star College System is the largest institution of higher education in the Houston area, and the fastest-growing community college system in Texas. Dr. Richard Carpenter is the chancellor of LSCS, which consists of six colleges including LSC-CyFair, LSC-Kingwood, LSC-Montgomery, LSC-North Harris, LSC-Tomball, and LSC-University Park, six centers, LSC-University Center at Montgomery, LSC-University Center at University Park, Lone Star Corporate College, and LSC-Online. To learn more visit LoneStar.edu.
###