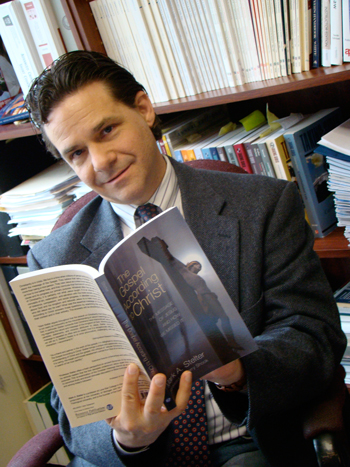 Lone Star College-Montgomery's criminal justice professor, Mark Stelter, has applied his investigative research skills to the theology field in his recently published book,
The Gospel According to Christ: The Message of Jesus and How We Missed It
(Resource Publications, 2011).
The book, which counters a common view of Jesus as simply a moral leader, was written after a meticulous study of every word spoken by Jesus in the Bible. That feat took close to two years for Stelter to complete.
"I was struck at how different the message of Jesus was than what we commonly think His message is," said Stelter. "What we have done is turned Christianity into a moral code, replacing Biblical concepts of sin, redemption, and salvation into more socially acceptable virtues of tolerance, compassion, and social progress."
While the book's message doesn't necessarily influence his criminal justice students, Stelter said the idea stemmed from conversations about Christianity that he's had with students and colleagues over his 13-year teaching career.
"While theology is obviously not criminology or criminal law, the two are very closely related," said Stelter. "All cultures began with laws based on religious codes, and before we had lawyers, we had priests or rabbis who gave us the law. The study of law and justice is in large part the study of good and evil, so in many ways, some subtle and some not so subtle, the two can be intertwined."
The book includes reviews from distinguished professors and authors, as well as a forward written by Kerry Shook, pastor of The Woodlands Church. Stelter is a member of The Woodlands Church and helps teach a class there each Sunday that addresses the big issues surrounding Christianity.
"I think what we have done is turned Christianity into a moral code and Jesus into a wise moral teacher," said Stelter. "In actuality, what Jesus claimed to be was the divine Son of God who was here not to teach us how to live a better life, but here to give us eternal life."
As the co-advisor of The Mission, an LSC-Montgomery student group of close to 300 members that meets on campus twice a week for worship, prayer, and Bible study, Stelter stands as an encouragement for students with similar beliefs.
"He is full of energy and ideas," said Jon Beadle, a student leader of The Mission. "His extensive experience has helped us especially in the development of our leadership skills in confronting non-truths in the culture about the real Jesus."
Throughout his almost 14-year career at LSC-Montgomery, Stelter has received the Faculty Excellence Award twice, and more recently, he was the college's nominee for the Piper Award, an award given to only 10 professors across Texas for superior teaching.
Additionally, Stelter is the founder of The Center for Advanced Christian Studies, which provides scholarships for students and sponsors lectures and debates, and the creator of thinkingaboutchristianity.com, a website in development devoted to Christianity discussions and related theological and philosophical issues.
Before he began teaching, Stelter was a Houston police officer and an assistant district attorney in Harris County. He holds a doctor of jurisprudence degree from the University of Michigan and a master of theology degree from Liberty Baptist Theological Seminary.
LSC-Montgomery offers an associate degree in criminal justice that prepares students for a career in the criminal justice field including in areas such as police, parole, probation, corrections, and juvenile offender programs. All criminal justice classes at LSC-Montgomery are fully transferable to any criminal justice program in Texas or as electives to most other university programs.
For more information about the book or the criminal justice program at LSC-Montgomery, contact Mark Stelter at
mark.a.stelter@LoneStar.edu
, or 936.273.7326.
LSC-Montgomery is located at 3200 College Park Drive, one-half mile west of Interstate 45, between Conroe and The Woodlands. For more information about the college, call 936.273.7000, or visit www.LoneStar.edu/montgomery
.

With more than 75,000 students in credit classes for fall 2011, and a total enrollment of more than 90,000, Lone Star College System is the largest institution of higher education in the Houston area, and the fastest-growing community college system in Texas. Dr. Richard Carpenter is the chancellor of LSCS, which consists of five colleges including LSC-CyFair, LSC-Kingwood, LSC-Montgomery, LSC-North Harris, and LSC-Tomball, six centers, LSC-University Park, LSC-University Center at Montgomery, LSC-University Center at University Park, Lone Star Corporate College, and LSC-Online. To learn more visit LoneStar.edu.