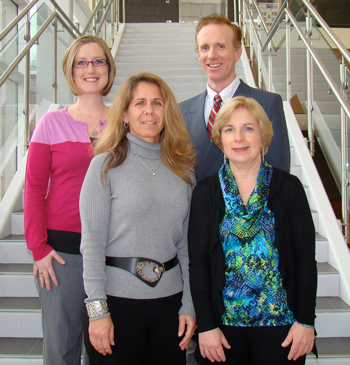 Lone Star College-Montgomery and the National Institute for Staff and Organizational Development (NISOD) proudly announce Terry Albores, Dr. Craig Livingston, Simone Rieck, and Patricia Sendelbach as Faculty Excellence Award recipients for the 2011-2012 academic year.
"These faculty members are significant leaders in excellence, a key component of the LSC-Montgomery Maverick way," said Dr. Austin A. Lane, president of LSC-Montgomery. "We're proud of our first-class professors who work creatively and diligently to support the aspirations of our students."
Each year, NISOD formally recognizes the best in higher education with Faculty Excellence Awards chosen from nominations received from member schools.
For Livingston, who teaches history, this year marked the third year he received the award and the first time that an LSC-Montgomery professor received the award three times.
"From its beginning, LSC-Montgomery has encouraged and recognized hard work among the professors," said Livingston, who is one of the campus' founding faculty members. "The campus provides intellectual open space for creative faculty to capitalize ideas into real offerings to students."
Livingston takes a hands-on approach to teaching, and in 2009, he led 48 students and community members on a Civil War field trip through Mississippi and Tennessee that included a reenactment of the Confederate charge at the Battle of Corinth.
"I felt so connected to both students and history in that moment," said Livingston. "That's why I always insist that I owe my students eternal gratitude. They—even more than my books—have become my conduit to the past."
On campus, Livingston established the Lord Stirling's Fifes and Drums and serves on the board of directors for the campus' writing center, The Write Place. He also chairs the planning commission for the 150th anniversary of the Civil War, which has events starting in September.
Another recipient of the Faculty Excellence Award is Simone Rieck, professor of English, who joined LSC-Montgomery full time in August of 2009 after teaching at College of the Mainland, North Central Texas College, and Brookhaven College. Rieck is greatly involved on campus with Sigma Kappa Delta, the English Honors Society. She also conducts a weekly conversation group for English Speakers of Other Languages (ESOL) and serves as a faculty fellow.
"Even more than the other colleges at which I've taught, LSC-Montgomery has an incredible mix of students and faculty alike," said Rieck. "Being rewarded for serving my students is by far my greatest accomplishment."
In class, Rieck does what she can to make students feel comfortable and confident, even if that means completely changing her approach with a new group of students.
"'What do they enjoy? What gives them inspiration? How can I serve as a constant reminder of why they chose to take the step toward a college education?' These are things I ask to appeal to their senses and emotions," she said. "This is my dream job, and I feel very blessed to be a part of this college and community."
Also recognized is Patricia Sendelbach, a professor of accounting and department chair. In class, Sendelbach aims to see each student leave the course with a deeper appreciation of the subject and its usefulness to them.
"It's important for students to understand why they are performing each of the steps needed to solve an accounting problem and critically think about the purpose of each step," said Sendelbach, a certified public accountant (CPA) who has been teaching for more than 25 years.
To Sendelbach, LSC-Montgomery's smaller class sizes create the best learning environment.
"Our class sizes are ideal for instructors and students to know each other and learn from each other," she said. "I believe this leads to student success and lasting relationships with students."
Finally, Terry Albores was also honored with the Faculty Excellence Award. She is a counselor in the natural sciences and health division, but also serves as a co-teacher of the LSC-Montgomery Biotechnology Institute's special topics class and as an adjunct faculty member for yoga.
"I appreciate being able to assist people with a variety of concerns: academics, personal life concerns, career choices," said Albores. "I'm passionate about helping others discover and achieve their goals and dreams."
Albores started at LSC-Montgomery in 2002 as a part-time instructor for the Academy for Lifelong Learning, a program for active adults to enjoy continued intellectual and personal growth.
After completing her master's degree in counseling, she joined the campus full-time in 2009.
"I absolutely love the environment, the students, staff, and faculty," she said. "Our beautiful campus and the activities each semester—it's really my kind of place."
NISOD, housed at the University of Texas-Austin, is a worldwide consortium dedicated to the professional development of faculty, administrators, and staff and to the continued improvement of teaching and learning with the ultimate goal of student success. More than 600 community colleges around the world are NISOD members.
LSC-Montgomery is located at 3200 College Park Drive, one-half mile west of Interstate 45, between Conroe and The Woodlands. For more information about the college, call 936.273.7000, or visit www.LoneStar.edu/montgomery.

With more than 75,000 students in credit classes for fall 2011, and a total enrollment of more than 90,000, Lone Star College System is the largest institution of higher education in the Houston area, and the fastest-growing community college system in Texas. Dr. Richard Carpenter is the chancellor of LSCS, which consists of five colleges including LSC-CyFair, LSC-Kingwood, LSC-Montgomery, LSC-North Harris, and LSC-Tomball, six centers, LSC-University Park, LSC-University Center at Montgomery, LSC-University Center at University Park, Lone Star Corporate College, and LSC-Online. To learn more visit LoneStar.edu.