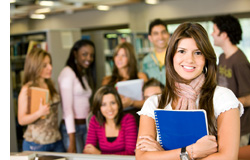 How can high school students get a jump start on their college education this summer? Get all the details at the April 4 and April 10 Dual Credit information sessions at Lone Star College-CyFair.
High school juniors and seniors can earn high school and college credit in classes that are transferable to most public universities and colleges. Tuition is free, though some fees do apply. This is a savings of $114 for each 3-hour class available in the Dual Credit course communities.
"LSC-CyFair offers Dual Credit course communities in English, biology, math, history, psychology, economics, speech and more," said LSC-CyFair's Vice President for Student Learning Dr. Feleccia Moore-Davis. "These are not the only courses they can take, but courses in which they will be able to build a peer community with other Dual Credit students. It's a great opportunity for students who qualify."
Most dual credit courses take place at the high schools; however LSC-CyFair offers Dual Credit course communities during two summer sessions at LSC-CyFair starting June 4 and July 12. Students will be immersed in the college community, which is correlated with a student's college success, as well as it has significant benefits including the use of state-of-the-art facilities, great faculty and support services, she said.
LSC-CyFair is hosting two information sessions for 11th- and 12th-graders and their parents. The sessions will include information regarding who qualifies, what courses are available, the application process, benefits of dual credit as well as a question and answer period. No reservations are needed.
The information sessions are set for 6:30 p.m. to 7:30 p.m. in the Center for Academic and Student Affairs building (CASA Room 110) on the campus at 9191 Barker Cypress.
For information, go to LoneStar.edu/jumpstart-cyfair.