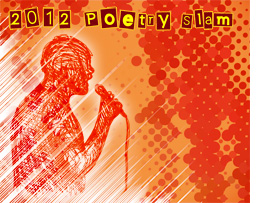 Sign up to perform or just come to enjoy an evening of performance poetry at Lone Star College-CyFair's Spring Poetry Slam set April 3.
"Be prepared for a rowdy atmosphere as we celebrate the freedom of expression with our annual Poetry Slam," said Gail Marxhausen, professor of English. "In celebration of National Poetry Month, this annual event is your opportunity to express, speak, declare and showcase your original work with a chance to win prizes."

Community and college slam poets will "bring their 'A' game and leave the fluff at home" as they compete and entertain audiences with poems in styles that typically range from vibrant, hip hop style to serene rhythm and rhyme. Sponsoring this annual event, set for 7 p.m. Tuesday, April 3 in the Main Stage Theatre, is LSC-CyFair's Windows on the World.
Contestants need to prepare three original poems with the performance of each poem no longer than three minutes. Contestants should register and receive a copy of the rules by Monday, April 2 to participate.
Judging the performances is a panel of professors, college staff and audience members who use an adaptation of National Poetry Slam rules.
This event is intended for mature audiences as some poems may contain adult material.
To register or for information, e-mail Marxhausen at Gail.L.Marxhausen@LoneStar.edu or call 832.482.1017.