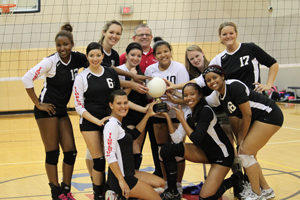 Several of the Lone Star College-Tomball club sports teams are making themselves heard this semester.
The LSC-Tomball Women's Volleyball team (pictured) ended an undefeated season by taking the conference championship title on April 14.
The LSC-Tomball Men's Soccer team finished the regular season with a record of 6-1-2. In the Conference Championship, the team won a fiercely contested semi-final match against LSC-North Harris. The game went into overtime and lasted three and a half hours. The team then had to turn around and face a well rested University of Houston team in the Finals match. The Timberwolves played hard, but were down a few players including their goalie and ultimately fell to U of H, 3-0. Very proud of their second place win, the team is confidence they can carry their winning momentum over into next season.
The LSC-Tomball baseball team made it to the playoffs, but were knocked out of the tournament by losing two of three to Victoria College.
The LSC-Tomball men's basketball team made it to the playoffs, but were beaten by Houston Community College-Northwest.
For more information on LSC-Tomball club sports, visit http://www.lonestar.edu/sports-tomball or contact LSC-Tomball Wellness Center coordinator Paul Dempsey at 281.357.3636 or Paul.A.Dempsey@lonestar.edu.