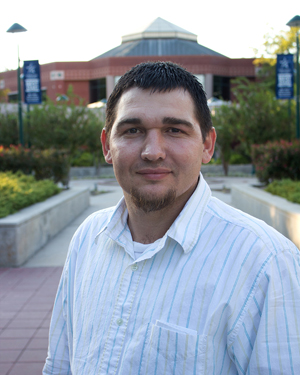 Imagine spending one semester (or less) at Lone Star College-Conroe Center and leaving with the education needed to start a new, exciting career. Now, imagine doing that for free.

Thanks to the continuation of a $1.5 million Texas Higher Education Coordinating Board Developmental Education Demonstration Projects grant, awarded to Lone Star College-Montgomery in 2010 for enhancing developmental education and adult basic education programs, LSC-Conroe Center is offering students a workforce certificate in a variety of programs at little or no cost.

The certificates available through this grant program are: A+ certification, Accounting Assistant, Certified Nurse Aide, Phlebotomy, Pre-Machine Shop Apprentice, and Welding. The programs are offered at LSC-Conroe Center, Lone Star College-Kingwood, or Lone Star College-North Harris.

James (Dustin) Ashworth was a recipient of the grant in 2011 and earned his Welding I and Welding II certificates at LSC-Conroe Center. Ashworth graduated from the program last summer and is now working full time as a welder for a company in the Austin area.

"I'm thankful for the advisor and the instructors who supported me through the program," said Ashworth. "They helped a lot, and without their support, I probably couldn't have done it.

Like Ashworth, those selected must be willing to attend a college readiness, support skills class in addition to the workforce course and showcase a willingness to work in the field in the U.S. or complete more schooling after completion of the certificate.

Originally structured for those who don't have their high school diploma or GED, the grant now includes those with or without a GED or high school diploma. All students receive individualized support, advising, and tutoring.

Applicants will complete an adult basic education test, which is offered at LSC-Conroe Center, and are selected based on the range in which their test score falls. Additional requirements for all healthcare certificates include a background check, immunizations, and a social security card.

For more information about the grant, visit www.LoneStar.edu/18937; or contact Charyl Durbin, advisor at LSC-Conroe Center, at Charyl.Durbin@LoneStar.edu or 936.521.4537; or Tristyn Davis, program manager for grants/ABE at LSC-Conroe Center at Tristyn.Davis@LoneStar.edu or 936.521.4536.

LSC-Conroe Center is located 777 Conroe Park North Drive in Conroe, approximately 2.5 miles east of I-45 off of FM 3083. For more information about the college, call 936.521.4500, or visit www.LoneStar.edu/Conroe-Center.

With 75,000 students in credit classes, and a total enrollment of more than 90,000, Lone Star College System is the largest institution of higher education in the Houston area, and the fastest-growing community college system in Texas. Dr. Richard Carpenter is the chancellor of LSCS, which consists of six colleges including LSC-CyFair, LSC-Kingwood, LSC-Montgomery, LSC-North Harris, LSC-Tomball, and LSC-University Park, five centers, LSC-University Center at Montgomery, LSC-University Center at University Park, Lone Star Corporate College, and LSC-Online. To learn more visit LoneStar.edu.