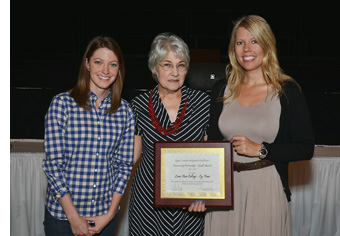 The community outreach efforts with an area elementary school recently earned Lone Star College-CyFair Student Ambassadors a Cypress-Fairbanks Independent School District Partners in Education award.
In the 2010-11 academic year, LSC-CyFair's Student Ambassadors adopted Lieder Elementary, a Title I school in CFISD. Last month, the students' volunteerism and fund-raising efforts were recognized with a Health Partnership Award at CFISD's Volunteers In Public Schools (VIPS) Appreciation Luncheon.
LSC-CyFair's Executive Director of College Relations Michelle Tran accepted the Health Partnership Award, which recognizes a community partner whose partnership with a campus has had a demonstrated positive impact on students' physical fitness and health awareness.
"We are thrilled to receive this award. Our Ambassadors as well as our Tennis Team are campus leaders who value the importance of giving back to the community," said Tran, sponsor of the Student Ambassadors Program. "It has not only been a privilege for us to work with the students and staff at Lieder Elementary, but a life changing experience for many of our students."
Lieder campus administration and staff nominated LSC-CyFair for the award to let the college volunteers know the value of their partnership and impact they had on Lieder students. LSC-CyFair's positive role models and many contributions not only improved the success and behavior of students, but helped them become caring and responsible people, exercise, build self-esteem and persevere when trying new things as well as understand the importance of hard work and a higher education.
The Health Partnership Award highlights the impact of LSC-CyFair's two-semester "Lieder Leopards Need to Play" campaign that raised nearly $3,200 for new playground equipment, which had been condemned and removed, as well as the spring semester tennis clinics for more than 300 Lieder students that the ambassadors facilitated in partnership with LSC-CyFair's Tennis Team.
Among other outreach efforts last year were a school supply drive, mentoring, Bus Buddies participation, tennis equipment donations, assistance with a "No Place for Hate" Campaign and an LSC-CyFair campus tour. Volunteer efforts have continued in this 2011-2012 academic year with more tennis clinics and ambassador assistance in the school library, book fairs, field day and more.
For information on the Student Ambassadors Program or other college student organizations, go to LoneStar.edu/clubs-cyfair. For information on CFISD's Partners in Education or VIPS, contact Pam Scott at Pamela.scott@cfisd.net.