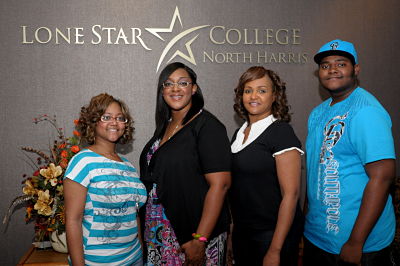 When Brittney Spears, now 22, graduated from Klein Forest High School in 2007, she was excited to begin her college career at one of Texas' most exclusive universities. Unfortunately, as often happens, plans change.
"I graduated in the top 15 percent of my class, was accepted into Baylor University and couldn't wait to get started. The day after graduation, I moved to Waco and started taking summer classes," said Spears.
However, following a successful fall semester, Spears faced the devastating reality that she wouldn't be able to continue her education at Baylor. Despite financial aid, she still needed another $4,000 for the spring semester.
"I had grants, loans and my parents were contributing. We just couldn't afford it. They couldn't give anymore," she said
Despite her disappointment, and lack of enthusiasm for attending a community college, she scrambled to enroll in Lone Star College-North Harris for the spring semester. She quickly realized the unexpected challenges that awaited her.
"At Baylor I was living on campus so I didn't need a car. All of a sudden I had to get a car, and I needed a job to pay for it. It was much different from being just a student," explained Spears.
The drastic change in plans eventually caught up with her.
"It was hard, and that first semester I really messed up. I dropped two classes, got a B in another and got my first ever F," she recalled.
After retaking the class she failed, Spears decided it was time to regroup. She took a break from classes, and in the summer of 2010 she returned to campus focused and ready to succeed. Her first step was to reach out to her professors for advice. The recurring suggestion she heard was to get involved on campus.
She joined the honors program and was later inducted into Phi Theta Kappa, the college's national honor society. She backed up her commitment to class with a perfect GPA during her return semester, as well as the one that followed.
"That's when I really started to enjoy LSC-North Harris. I tried to get involved with all of the tutoring, peer leader and student organizations that I could find," she said.
Not only did her excitement for college begin to blossom, it also became contagious. It wasn't long before her mother, sister and brother were ready to see what they were missing out on.
Her older sister, Brandy, 29, was the first to follow Brittney's lead.
"I was bored and realized I wasn't doing anything with my life. So, when I saw how much Brittney was enjoying it, I decided to check it out for myself. The first thing I noticed when I got here was how much everyone cares about you and their emphasis on graduation," noted Brandy Spears.
When younger brother, Nicholas, 18, graduated from high school, he listened to his older sisters and enrolled immediately at LSC-North Harris.
With three children on campus, it was difficult for Ernestine Spears, 49, not to notice the impact the college was having on her family. When her job in the oil and gas industry became uncertain, she decided it was time to become the fourth LSC-North Harris student in the family. Now she is taking her basic classes with an eye toward the nursing program.
"Brittney was so upset when she had to leave Baylor. Lone Star College turned things around for her and made such a huge difference. I decided to find out what they could offer me too," said Ernestine Spears.
Meanwhile, Brittney Spears is looking forward to a second chance at one of the state's premiere universities. She will begin pursuing her bachelor's degree in psychology this fall at Texas A&M University, and plans to attend law school after that.
"Now I understand how important it is to get involved outside the classroom. The biggest thing I learned from my time here was that a lot of students can make good grades, it's your involvement in the community and on campus that sets you apart. I'm definitely taking that lesson with me as I continue my education," added Brittney Spears.
First, however, she will be walking the stage as the first in her family to earn a college degree. Clearly, she won't be the last.
The LSC-North Harris Graduation Ceremony will take place Friday, May 11 at 7:00 p.m. in the M.O. Campbell Educational Center, located at 1865 Aldine Bender Road in Houston, Texas.
Lone Star College-North Harris is located at 2700 W.W. Thorne Drive, one-half mile south of FM 1960 East, between Aldine-Westfield and Hardy Roads. For more information about the college, call 281.618.5400 or visit LoneStar.edu/NorthHarris.
With 75,000 students in credit classes, and a total enrollment of more than 90,000, Lone Star College System is the largest institution of higher education in the Houston area, and the fastest-growing community college system in Texas. Dr. Richard Carpenter is the chancellor of LSCS, which consists of six colleges including LSC-CyFair, LSC-Kingwood, LSC-Montgomery, LSC-North Harris, LSC-Tomball and LSC-University Park, five centers, LSC-University Center at Montgomery, LSC-University Center at University Park, Lone Star Corporate College, and LSC-Online. To learn more visit LoneStar.edu.
###