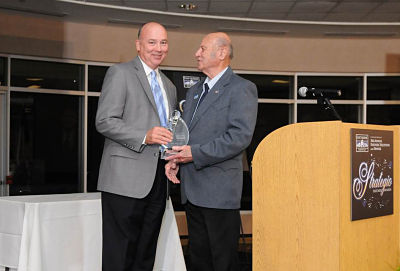 Dr. Steve Head, president of Lone Star College-North Harris, was recently awarded the Special Chairman's Award at the East Aldine District's annual Strategic Partner Awards Reception.
"I'm honored to have been selected to receive this award. LSC-North Harris relies heavily on support from organizations like the East Aldine District. I look forward to continuing our partnership as we seek new and better ways to serve students in this community," said Dr. Head.
The Chairman's award is given to individuals that have exhibited true collaborative efforts in working with the district and the Aldine community and symbolizes the joint efforts to overcome obstacles and achieve common goals.
Recently celebrating its 10th Anniversary, East Aldine District's board of directors with input from area residents, business owners, and civic leaders, created an eight-point Service and Action Plan outlining the community's goals and priorities. Since adopted in August 2002, the board has taken direct action to implement projects and services pursuant to this plan to improve the quality of life for those who live, work and conduct business in East Aldine.
"As the district continues to implement its strategic plan for community development, LSC-North Harris is an integral part, providing college-level courses, workforce training,small business development, English-as-a-Second Language,GED courses and more," added Dr. Head. "It's our mission to create a college-going culture and help strengthen the economic environment within Aldine."
Lone Star College-North Harris is located at 2700 W.W. Thorne Drive, one-half mile south of FM 1960 East, between Aldine-Westfield and Hardy Roads. For more information about the college, call 281.618.5400 or visit LoneStar.edu/NorthHarris.
With 75,000 students in credit classes, and a total enrollment of more than 90,000, Lone Star College System is the largest institution of higher education in the Houston area, and the fastest-growing community college system in Texas. Dr. Richard Carpenter is the chancellor of LSCS, which consists of six colleges including LSC-CyFair, LSC-Kingwood, LSC-Montgomery, LSC-North Harris, LSC-Tomball and LSC-University Park, five centers, LSC-University Center at Montgomery, LSC-University Center at University Park, Lone Star Corporate College, and LSC-Online. To learn more visit LoneStar.edu.
###