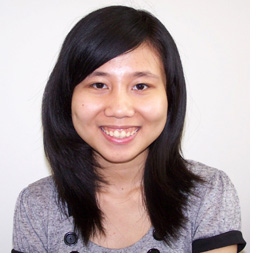 Future pharmacist Thanhphuong Le recently made Lone Star College-CyFair history as the first recipient of the prestigious Jack Kent Cooke Foundation's Undergraduate Transfer Scholarship.
The JKC Foundation awards up to $30,000 per year to each of approximately 50 deserving students pursuing a bachelor's degree. Each award is intended to cover a significant share of educational expenses – including tuition, living expenses, books and required fees.
With an LSC-CyFair associate degree and a few extra course credits under her belt, Le was ready to transfer this fall to the University of Houston to pursue a biochemistry degree, but with no car of her own, she was worried about transportation.
"Now I will have the chance to stay on campus in the dorm and get involved in organizations and participate in evening events," said Le, who will be the first in her family to graduate college.
While at LSC-CyFair, Le said she found the environment familiar to high school with small classes and the opportunity to really connect with her professors.
"My English is not that good," said Le, whose family moved from Vietnam to the United States five years ago. "I didn't think I could stand in front of people and talk, but then I got involved in Phi Theta Kappa with Professor Jamili Omar's encouragement."
In addition to taking and excelling in a variety of courses including advanced mathematics and sciences, Le was a member of the math club, participated in a student symposium and proved to be a student leader as she completed the Leadership Lone Star College (LLSC) program.
"Thanh Le is so typical of many of our leadership students in that she's very demure, but has great ideas and leads by example," said John Turner, LLSC program coordinator and LSC-Kingwood Associate Dean of Student Development. "However, what makes her stand above the 'average' leader is her quiet charisma that draws others to her and allows her to show the type of servant leadership that our society so desperately needs."
LLSC is a program that provides an opportunity to enhance leadership skills in LSCS students while learning more about their community. Le said she liked the visit to the Texas Medical Center in particular.
"We learned about kids who need help," she said. "It inspired me and reassured me about my goal to be a pharmacist."
Once she becomes a pharmacist, Le plans to work in the United States to give back to the country where she was given the opportunity to complete her education. However, concerned that people in some developing parts of Vietnam aren't getting good medical information and wanting to make a difference, Le said she will return to Vietnam with different volunteer organizations to share her knowledge and distribute medicine to those in need. For now, she said she feels lucky to get the chance to attend school and to have earned the JKC scholarship.
Le is one of only four students in the Lone Star College System's history to earn this prestigious scholarship. Nguyen Nguyen at LSC-North Harris is also a 2012 scholarship recipient. Amos Zimmerman at LSC-Kingwood was a 2011 recipient and Lori Langdon at LSC-North Harris was a 2002 recipient.
For information on the Jack Kent Cooke Foundation, go to www.jkc.org. For information on Leadership Lone Star College or LSC-CyFair, go to LoneStar.edu/collegiate-leadership-institute or LoneStar.edu/cyfair respectively.