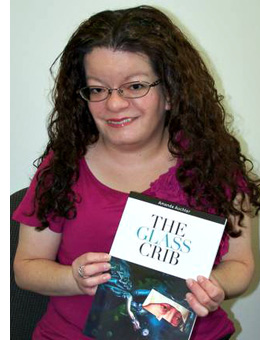 Since childhood, writing has been like breathing for Lone Star College-CyFair's Amanda Auchter, who is now an award-winning author having recently earned the Perugia Press Prize for her second book of poetry.
"The beauty of poetry is that it's not hard. It's not meant to confuse or trick and even if you don't understand what it's about, you are still left with an impression, emotion or feeling," said Auchter. "The goal is for the audience to have a reaction."
"The Wishing Tomb" is a collection of New Orleans-inspired poems, a love letter to a city and region, a historical narrative in verse, said Auchter. This second book is about transcendence and coming through the worst the world gives – and in this case a "quintessential city of jazz and yellow fevers, of hurricanes and Creole cuisine."
"We're delighted to see Amanda receive this prestigious award, but we're not surprised to see this strong new voice in the poetry world receive well-deserved recognition," said Michelle Brown, LSC-CyFair English professor.
Auchter said this recent honor for "The Wishing Tomb" is wonderful, in particular, because the Perugia Press is an award-winning press by women for women, but the timing of it all is bit overwhelming, too.
Her first book of poetry "The Glass Crib" won her the 2010 Zone 3 Press First Book Award and was published last September. "The Wishing Tomb" has also been nominated for the James Laughlin Award and will be published this September. In addition, Auchter will travel the country with a 10-reading mini-book tour, will continue work on her third book, a memoir, and will celebrate the 10th anniversary of the independent journal "Pebble Lake Review," of which she is founding editor.
Auchter is also in her fourth year as an adjunct faculty member teaching creative writing at LSC-CyFair.
"I like learning new things and telling people about them," said Auchter. "I have fun with my classes and I get really excited at the end of the semester when things start to click in my students' head. It's a process I enjoy."
Not only does Auchter engage her students who rave about her teaching, said Brown, but she is also involved at the campus level as a judge for the annual Poetry Slam and at the system level on the Creative Writing Committee.
For information on the Perugia Press Prize, go to www.perugiapress.com. For information on LSC-CyFair, go to LoneStar.edu.