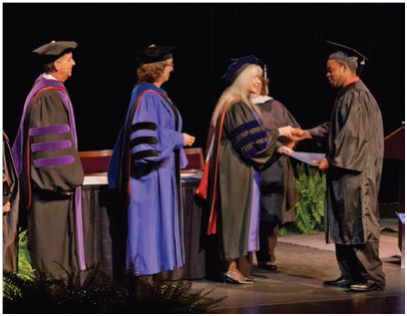 For some local residents, the first step in reaching their educational goal of completing college begins with passing the General Educational Development (GED) exam. On May 24 in the Performing Arts Center, LSC-Tomball celebrated 349 students who passed the exam this year during the college's 3rd annual GED Graduation Ceremony.
Dressed in full graduation attire, the students cheered for their fellow classmate, Katelyn Johnson, as she told her story of overcoming debilitating depression to complete her GED. Then, the students and guests heard from LSC-Tomball faculty member Catherine Dep-Wah Davis as she shared her personal journey that began with her passing the GED exam.
Dr. Rand Key, LSCS Senior Vice Chancellor and Chief Operating Officer, also addressed the graduates and encouraged them to continue to press forward and find the support they need to reach their goals. One way Lone Star College does this is through scholarships. So, at the ceremony, two students, Darren Ricketts and Fabiola Jimenez, each received a $500 scholarship at the ceremony to continue their education within the Lone Star College System.