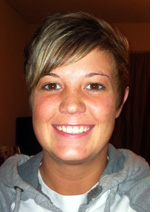 Lone Star College-CyFair provides more than a quality education as Kayla Riley, a student in the Logistics Management Program, knows through first-hand experience.
In a new partnership with Aries Freight Systems and LSC-CyFair, Riley was the first student to receive an internship position that Director of Business Development Gregg Hurt created at Aries for talented and aspiring logistics management students like Riley.
"This internship was important to me not only for the experience, but the knowledge I gained by being exposed to the business," said Riley. "In my opinion, an internship in the freight forwarding industry of logistics is a great place to start because they are the middle man."
An international freight forwarding and domestic trucking company, Aries specializes in all door-to-door logistics services including air and ocean export and import freight forwarding, customs brokerage, time-definite ground freight services, project cargo, warehousing, packing and crating services, trade compliance and customized logistics services.
While Riley had gained some logistics experience through the United State Army Reserves, the Aries internship was her first experience in the freight forwarding industry.
"In freight forwarding you work with agents, carriers, customers, manufacturers, basically all areas of logistics. This helps when having to go to class and learn about these different areas," said Riley, who has completed Basic Logistics and First Line Logistics Certificates and is pursuing an Associate of Applied Science degree in Logistics Management. "Aries in particular was a great experience because they do domestic, international, oversized cargo and project freight forwarding, so my exposure was not limited and I could maximize my learning experience."
When Riley completed her internship at the end of May, she was offered a full-time position at this growing logistics company in Houston, which also has offices in Dallas and McAllen, Texas, and Miami, Florida as well as a strong network of global business partners.
"I decided to turn (the offer) down because my family is taking over a company in Birmingham so I am moving there to help with business development," she said.
Before she moves, Riley is taking two summer classes at LSC-CyFair, where she's been invited into the National Society of Collegiate Scholars and Phi Theta Kappa. From Birmingham, she will take online classes to complete her LSC-CyFair degree by December 2012.
In addition to the Aries internship opportunity, LSC-CyFair offers logistics students opportunities to gain personal insight and professional connections into the industry through the student Supply Chain Industry Distribution Organization (SIDO) club. Among past club events were a visit to Transtar, a Council of Supply Chain Management Professional Houston Roundtable Mentor Day, attendance at the Breakbulk Americas Transportation Conference and participation in the University of Houston Annual Scholarship Golf Tournament with UofH SIDO members.
For information on SIDO or the logistics program, which is only offered at LSC-CyFair, go to LoneStar.edu/logistics-management-dept or contact Ruben Howard, department chair at 281.2905233.