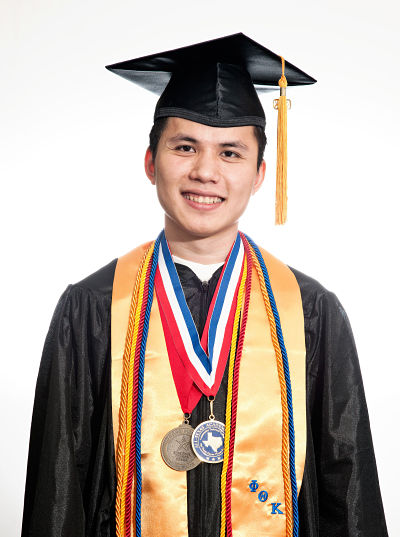 Lone Star College-North Harris student, Nguyen Nguyen was recently chosen as a recipient of the Jack Kent Cooke (JKC) Foundation's Undergraduate Transfer Scholarship.
Each year, the JKC Foundation awards up to $30,000 per year to approximately 50 students pursuing a bachelor's degree. Each award is intended to cover a significant share of educational expenses – including tuition, living expenses, books and required fees.
Nguyen, who plans to pursue a degree in petroleum engineering at Texas A&M University, moved to Houston from Vietnam to attend college. He credits his mother, and the countless sacrifices she has made, for his ability to obtain a college education.
"My mother remains in Vietnam and continues to endure many hardships with hopes of a brighter future for her children," said Nguyen.
Initially, Nguyen did not even realize the extent of her sacrifices.
"I discovered that she sold our family's home and used her retirement money for me to be able to come to America. I have committed myself to academic success in search of a better life, so my mother's lofty sacrifices will pay off," he explained.
In addition to making his mother, and family, proud, Nguyen hopes to use his education for the benefit of his entire country.
"I want to become a petroleum engineer so that I can use my knowledge and abilities to develop Vietnam's oil industry. My country started developing petroleum industry after 1975, so I understand that innovative and cutting-edge technologies are the key to the future," said Nguyen.
Nguyen, who just completed his associate degree at LSC-North Harris, also points to his involvement in student organizations, such as Phi Theta Kappa, as another reason for his success.
"Previously, I thought a successful student would be recognized by only academic achievements, but my view changed when I was inducted into the Phi Theta Kappa International Honor Society. I learned and experienced many opportunities about college life through service projects. I became aware that leadership skills play an important role in a student's success, and have overcome my fear of communication, ultimately running for vice president of service," he said.
Laura Dupree, an academic advisor at LSC-North Harris, agrees with the JKC Foundation's choice of Nguyen for their prestigious scholarship.
"I have no doubt in his ability to succeed in anything he tries. His academic record is stellar, and considering he is already one of the best student leaders I have ever had the privilege to work with, he will excel in future leadership opportunities," said Dupree.
Nguyen is one of only four students in the Lone Star College System's history, and the second LSC-North Harris student, to receive this exclusive scholarship. Thanhphuong Le at LSC-CyFair is also a 2012 scholarship recipient. Amos Zimmerman at LSC-Kingwood was a 2011 recipient and Lori Langdon at LSC-North Harris was a 2002 recipient.
Lone Star College-North Harris is located at 2700 W.W. Thorne Drive, one-half mile south of FM 1960 East, between Aldine-Westfield and Hardy Roads. For more information about the college, call 281.618.5400 or visit LoneStar.edu/NorthHarris.
With 75,000 students in credit classes, and a total enrollment of more than 90,000, Lone Star College System is the largest institution of higher education in the Houston area, and the fastest-growing community college system in Texas. Dr. Richard Carpenter is the chancellor of LSCS, which consists of six colleges including LSC-CyFair, LSC-Kingwood, LSC-Montgomery, LSC-North Harris, LSC-Tomball and LSC-University Park, five centers, LSC-University Center at Montgomery, LSC-University Center at University Park, Lone Star Corporate College, and LSC-Online. To learn more visit LoneStar.edu.