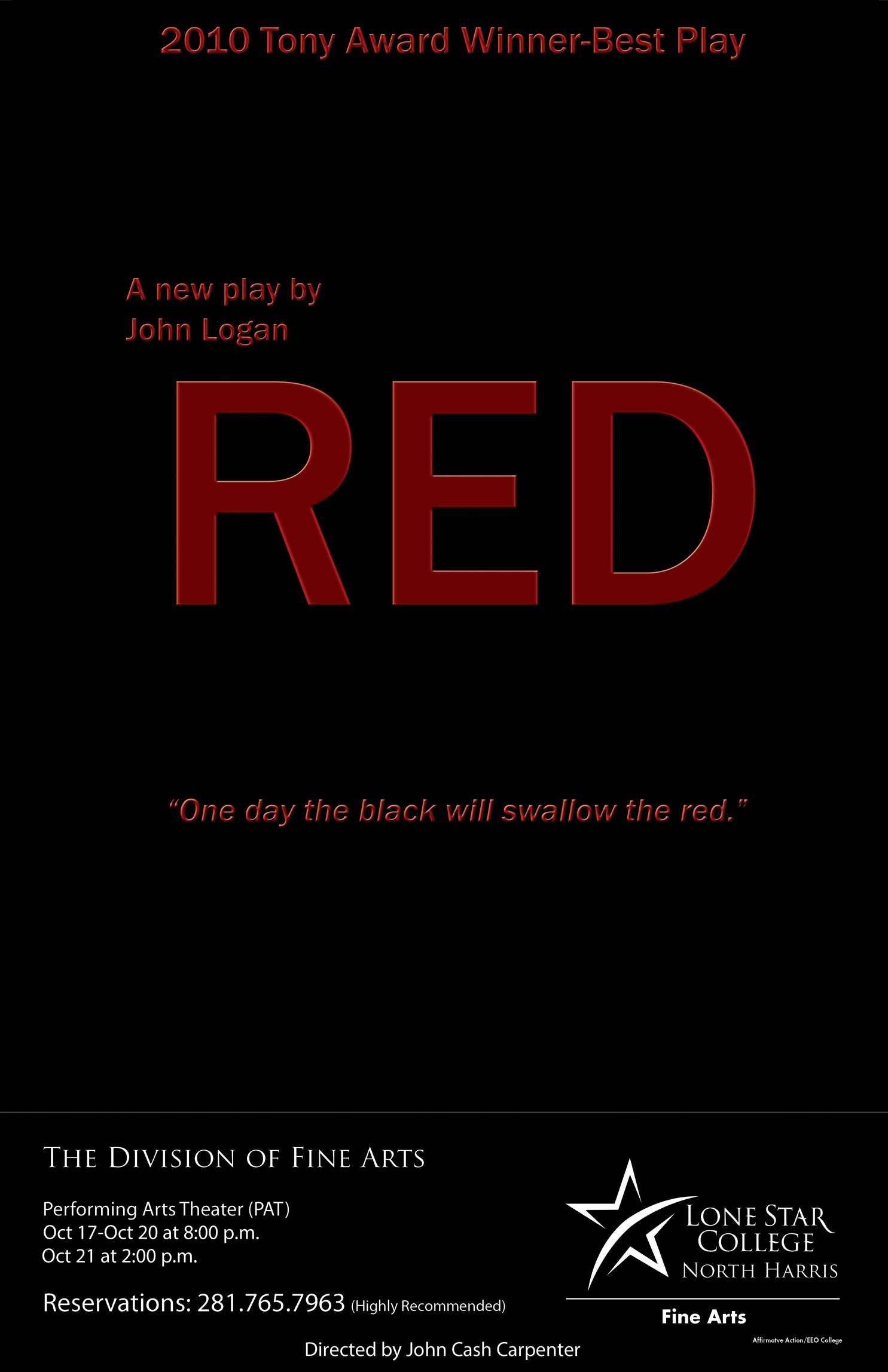 The Lone Star College-North Harris Division of Fine Arts presents "Red," the 2010 Tony Award-winning play from John Logan. "RED" chronicles two years in the life of Mark Rothko, a master abstract expressionist who has just landed the biggest commission in the history of modern art. Daily performances are scheduled for Oct. 17 through Oct. 21.
Raw and provocative, "RED" is a searing portrait of an artist's ambition and vulnerability as he tries to create a definitive work for an extraordinary setting. Rothko works feverishly with his young assistant, Ken, in his studio on the Bowery. But when Ken gains the confidence to challenge him, Rothko faces the agonizing possibility that his crowning achievement could also become his undoing.
Nightly performances will take place Wednesday, Oct. 17 through Saturday, Oct. 20, at 8 p.m. On Sunday, Oct. 21, the play will conclude with a 2 p.m. matinee show. It is not recommended for small children.
The performances will take place in the college's Performing Arts Theater located in the Fine Arts Building at 2700 W.W. Thorne Drive, Houston, Texas. Tickets are $10 for general admission and reservations are recommended.
Call 281.765.7963 for reservations or visit LoneStar.edu/arts-nharris for more information and a complete listing of the college's upcoming fine arts events. The LSC-North Harris Division of Fine Arts offers a variety of concerts, theatrical productions, art exhibitions and lectures, workshops and more throughout the year.
Lone Star College-North Harris is located at 2700 W.W. Thorne Drive, one-half mile south of FM 1960 East, between Aldine-Westfield and Hardy Roads. For more information about the college, call 281.618.5400 or visit LoneStar.edu/NorthHarris.
With 75,000 students in credit classes, and a total enrollment of more than 90,000, Lone Star College System is the largest institution of higher education in the Houston area, and the fastest-growing community college system in Texas. Dr. Richard Carpenter is the chancellor of LSCS, which consists of six colleges including LSC-CyFair, LSC-Kingwood, LSC-Montgomery, LSC-North Harris, LSC-Tomball and LSC-University Park, five centers, LSC-University Center at Montgomery, LSC-University Center at University Park, Lone Star Corporate College, and LSC-Online. To learn more visit LoneStar.edu.
###