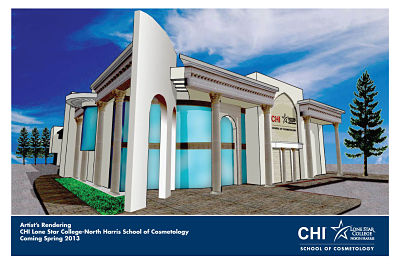 Lone Star College-North Harris and Farouk Systems announce plans to expand their partnership and create the first CHI Lone Star College-North Harris School of Cosmetology, with an official groundbreaking event Tuesday, October 30.
Expected to open in the spring of 2013, the school will be located at a newly-constructed facility adjacent to the CHI manufacturing plant in North Houston. The new school will transform one of the college's longest-running programs into Houston's premiere destination for cosmetology training.
"Our initial agreement with Farouk Systems was the first of its kind and placed us on the leading edge of community college partnerships. With this expansion of our relationship, we can provide students with unmatched resources and unique insight in a highly-competitive and growing industry," said Dr. Steve Head, president of LSC-North Harris.
In 2010, the college partnered with Farouk Systems to provide professional development for instructors, as well as access to safer, more advanced CHI products for students, and expanded career opportunities for its graduates.
"Education is the foundation for success and innovation. This partnership with Lone Star College-North Harris fulfills my dream to give young beauty industry professionals the tools to build not only a career, but a business. We hope this CHI School will be the first of many," said Farouk Shami, founder and chairman of Farouk Systems.
The new venture will capitalize on the world-renowned products and methods of Farouk Systems, along with the college expertise in education and training. Graduates will be prepared to work in the most sought-after industry positions, and have an invaluable understanding of both client service and the manufacturing process.
"Student success, innovation and partnerships are fundamental to the vision for Lone Star College System," added Dr. Richard Carpenter, LSCS chancellor. "Our work with Farouk Systems has proven to advance our goals in each of those areas, and I expect this new initiative to continue that trend."
The new school will have a strong emphasis on student career placement assistance, drawing on Farouk Systems' large network of affiliated salons and industry contacts, and will feature a dedicated career placement advisor. Under the agreement, LSC-North Harris and Farouk Systems will also combine to provide $140,000 in scholarship funds for cosmetology students.
"We expect approximately 35 students in the inaugural cosmetology class, with a total capacity for more than 100 students in the program each year." explained Dr. Head. "In addition, we plan to offer training in related fields such as nails, lashes and massage therapy.
The ground breaking for the new CHI Lone Star College-North Harris School of Cosmetology will take place at the CHI manufacturing facility located at 880 East Richey Road in Houston on Tuesday, Oct. 30 at 3 p.m.
Prospective students can request additional information by calling 281.618.1169, or by visiting LoneStar.edu/CHIschool to begin the application process.
###
About Farouk Systems, Inc.
Farouk Systems, Inc. is a Houston based company that manufactures high quality professional hair care products by CHI™ and BioSilk®. Owned and operated by a team of hairdressers, the world-renowned company includes over 2,000 educators and sales its products in over 100 countries. In 1986, the inception of the company was due to a major breakthrough and it eventually created a revolution in the beauty industry. Farouk Systems went from inventing ammonia-free color, incorporating silk into hair care products, pioneering CHI™ thermal tool technology and hiring a former NASA Senior Scientist. For more information, log onto http://www.farouk.com/.
About Lone Star College
Lone Star College-North Harris is the original college in the Lone Star College System family. Approaching 40 years of service, LSC-North Harris opened its doors in 1973 with cosmetology as one of its initial offerings. The college currently offers more than 100 programs of study, including university-transfer and numerous workforce education courses and programs. Classes are available days, evenings and weekends, in both traditional and online formats. With 75,000 students in credit classes, and a total enrollment of more than 90,000, Lone Star College System is the largest institution of higher education in the Houston area, and the fastest-growing community college system in Texas. For more information visit LoneStar.edu/North Harris.