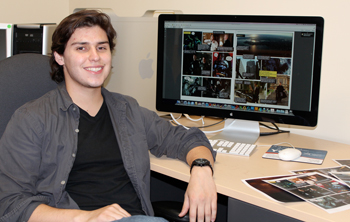 Family issues, crime, and culture are all discussed in a sociology course, but seldom from the point of view of Batman. However, Stefano Ballesteros, a student at Lone Star College-Montgomery, created an unconventional presentation showing a span of sociology topics—all from the view of The Caped Crusader.
Ballesteros' work, "Batman Begins: Sociology Behind the Dark Knight" is featured in LSC-Montgomery's latest edition of the Journal of Student Writing Across the Curriculum, In the Disciplines and In the Workplace (Vol. 8), a published collection of multi-disciplinary writing by students. For the first time in the eight-year history of the journal, visual texts created by Ballesteros and others are included, ready to be accessed via URLs provided in the special Visual Communication section.
"These works, which combine images and writing, are meant to be seen on the web and not read in the conventional sense," said Ron Heckelman, professor of English at LSC-Montgomery.
Ballesteros took screen captures of Batman movies that represented various sociology topics and inserted them into a comic book format using text bubbles to elaborate on the concepts.
"Crime, for instance, is Batman beating up a 'bad guy,'" said Ballesteros. "Another is how Bruce Wayne's family is affected by his life as Batman."
Ballesteros plans to transfer to the University of Texas at Austin next fall to major in aerospace engineering.
"I used higher thinking skills to bring this all together," he added. "It's easier to learn when you apply it to something you enjoy."
The Writing Across the Curriculum journal contains a multitude of genres—reviews, critiques, essays, and even lab reports are included, all written by students in programs such as art, biology, English, history, medical radiologic technology, psychology, technical writing, and more. It's more than a collection of assignments, but rather a showcase of the high quality of work that students are achieving.
"The students have written using the same skills as faculty and professionals," said Heckelman. "Each piece represents a kind of writing that professionals produce as part of their regular professional activity.
The journal is sponsored by the office of the vice president of instruction and the Communication Across the Curriculum initiative, which encourages interdisciplinary Writing Across the Curriculum as well as faculty dialogue and curricular experiments.
"I'm glad for the chance to bring something new to the journal, something more graphically-based," said Ballesteros. "It's outside the box for the journal, which is important because these classes are bringing out the best in students."
An online version of the journal can be viewed at http://wwwapps.lonestar.edu/flipbook/wac_2012/WAC_2012.html. Printed copies are also available on campus in the Library Building (Building F) and the college's new writing center, The Write Place, in the General Academic Center (Building G, Room 103).
Submissions for ninth issue (Vol. 9), to be published in the summer/fall 2013, are currently being accepted. Students who would like to submit a piece should let one of their instructors know of their interest, as submissions for consideration in the journal are made by faculty members. The deadline for submissions is May 25, 2013.
For more information, please contact Martina Kusi-Mensah at Martina.S.Kusi-Mensah@LoneStar.edu; Ron Heckelman at Ronald.J.Heckelman@LoneStar.edu; or Julie Harless at Julie.Harless@LoneStar.edu.
LSC-Montgomery is located at 3200 College Park Drive, one-half mile west of Interstate 45, between Conroe and The Woodlands. For more information about the college, call 936.273.7000, or visit www.LoneStar.edu/montgomery.
With 75,000 students in credit classes, and a total enrollment of more than 90,000, Lone Star College System is the largest institution of higher education in the Houston area, and the fastest-growing community college system in Texas. Dr. Richard Carpenter is the chancellor of LSCS, which consists of six colleges including LSC-CyFair, LSC-Kingwood, LSC-Montgomery, LSC-North Harris, LSC-Tomball, and LSC-University Park, five centers, LSC-University Center at Montgomery, LSC-University Center at University Park, Lone Star Corporate College, and LSC-Online. To learn more visit LoneStar.edu.