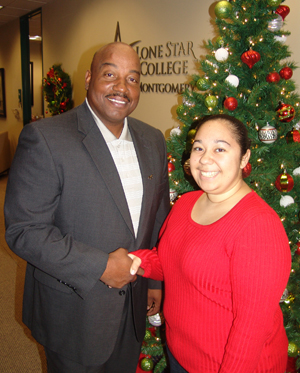 LSC-Montgomery student Marisa Reyes, right, is congratulated by Wendell Williams, vice president of student success, for winning the "Avoid the Stampede" early registration grand prize–free tuition for the upcoming spring semester.
For some Lone Star College-Montgomery students, the greatest perk for early registration is having the best selection of classes for the upcoming semester. But for student Marisa Reyes, the greatest perk for registering early is walking away with her spring semester tuition paid for.
Reyes was the grand prize winner in LSC-Montgomery's Avoid the Stampede promotion, an on-campus, express registration event held last month at the college.
"It was a great surprise," said Reyes, a resident of The Woodlands who is currently completing her freshmen and sophomore level courses before transferring to Texas Women's University to major in nursing. "I registered for classes on the very first day of Avoid the Stampede. I was leaving my psychology class and saw the promotion. There was free pizza, too!"
During the first few days of Avoid the Stampede, advisors, counselors, and faculty members were stationed in several high-traffic locations to assist students in signing up for the spring semester, which begins Monday, January 14.
Students were given free food, t-shirts, and college goodies for registering early. Plus those who registered during the month of November were eligible for other big prizes like an iPad and—best of all—the free tuition.
Almost 3,000 students registered during the first two days of Avoid the Stampede, which helps the college to better manage enrollment and serve students during the latter stages of the enrollment period.
"The number one goal is to help our students be successful," said Dr. Austin Lane, president of LSC-Montgomery. "Events like Avoid the Stampede get our current students positioned for success in the upcoming semester, and it allows us to spend more time advising those students who need it most."
During the two week winter break, limited advising services are available from 10 a.m.-2 p.m. in the Student Services Center (Bldg. C) on the following days: Thurs.-Fri., Dec. 20-21; Thurs.-Sat., Dec. 27-29; and Wed., Jan. 2. The offices re-open for normal business on Thursday, January 3, with the following schedule: Monday-Tuesday, 8 a.m.-7 p.m.; Wednesday-Thursday, 8 a.m.-5 p.m.; Friday, 8 a.m.-3 p.m.; and Saturday, 9 a.m -1 p.m. Students may also search for classes and register online at
www.LoneStar.edu/registration
.
For more information about registration, contact the office of student services at (936) 273-7236.
LSC-Montgomery is located at 3200 College Park Drive, one-half mile west of Interstate 45, between Conroe and The Woodlands. For more information about the college, call 936.273.7000, or visit
www.LoneStar.edu/montgomery
.
With 78,000 students in credit classes, and a total enrollment of more than 90,000, Lone Star College System is the largest institution of higher education in the Houston area and the fastest-growing community college system in the nation. Dr. Richard Carpenter is the chancellor of LSCS, which consists of six colleges including LSC-CyFair, LSC-Kingwood, LSC-Montgomery, LSC-North Harris, LSC-Tomball and LSC-University Park, five centers, LSC-University Center at Montgomery, LSC-University Center at University Park, Lone Star Corporate College, and LSC-Online. To learn more visit LoneStar.edu.