Lone Star College-Montgomery's art department is starting off its spring semester with "The Butterfly Effect," an exhibit by Joseph L. Kagle, on display Jan. 28 through Feb. 22 in the college's Mary Matteson-Parrish Art Gallery, located in the Performing Arts Center (Building D).
The community is invited to the opening reception on Monday, January 28, at noon, in the same location. The reception is free and refreshments will be served.
The "Butterfly Effect" showcases Kagle's insight into how small pieces are compiled together to create large pieces of art and how every piece affects the piece as a whole.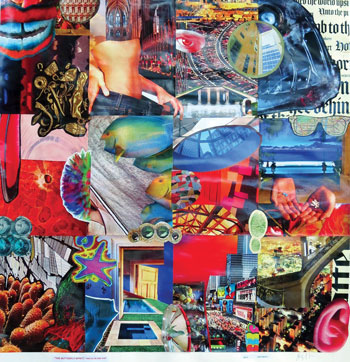 The "Butterfly Effect" is the subject of artist Joseph Kagle's recent art exhibition, on display in LSC-Montgomery's Mary Matteson-Parrish Art Gallery Jan. 28 – Feb. 22. The exhibit showcases a collection of collages, such as this one entitled, "Twelve in One."
"It is an artistic way to see what happens with the conscious working of the 'butterfly effect,'" said Kagle. "I work from pieces to pieces, line to line, color to color, texture to texture, composition to evolving composition, and more than anything, working from brushstroke to brushstroke. I even leave holes in the work, so that the viewer can put him or herself into the work of art."
Kagle has exhibited in more than 600 national and international exhibitions. Currently, he teaches Art Appreciation and Art History as an adjunct faculty member at Lone Star College-Kingwood.
The Mary Matteson-Parrish Art Gallery is a teaching gallery at LSC-Montgomery, and the presentations and artwork provided are free to the community. Gallery hours are Monday-Friday, from 10 a.m.-5 p.m.
For more information about the arts at LSC-Montgomery, contact Fong Chau, program coordinator for theatre/fine arts at LSC-Montgomery, at (936) 273-7021 or "Fong.T.Chau@LoneStar.edu; or visit www.LoneStar.edu/theatre-montgomery .
LSC-Montgomery is located at 3200 College Park Drive, one-half mile west of Interstate 45, between Conroe and The Woodlands. For more information about the college, call 936.273.7000, or visit www.LoneStar.edu/montgomery .
With 78,000 students in credit classes, and a total enrollment of more than 90,000, Lone Star College System is the largest institution of higher education in the Houston area and the fastest-growing community college system in the nation. Dr. Richard Carpenter is the chancellor of LSCS, which consists of six colleges including LSC-CyFair, LSC-Kingwood, LSC-Montgomery, LSC-North Harris, LSC-Tomball and LSC-University Park, five centers, LSC-University Center at Montgomery, LSC-University Center at University Park, Lone Star Corporate College, and LSC-Online. To learn more visit LoneStar.edu.