Lone Star College System's Sport Club Conference hit a line drive when two students, Brian Nutt and Scott Straubel, won first place in the student division at the National Collegiate Golf Championship in Las Vegas, Nev.
Straubel and Nutt, both students at Lone Star College-Montgomery, competed against 26 teams from colleges and universities nationwide in the amateur recreational golf event held last November. Together, they scored five under par, despite it being just their third time to play as a team.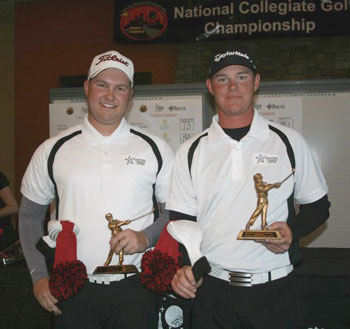 Lone Star College-Montgomery students Brian Nutt (on l.) and Scott Straubel (on r.) took home first place trophies in the National Collegiate Golf Championship last November. Together, they score five under par, beating out other large colleges and universities, including University of Texas at Austin by just one stroke.
"Until half way through, we didn't think we had a chance," said Straubel, who also played in the 2011 NCG championship. "But we looked at the leaderboards and saw that we were just two under. That's when we thought, 'we're still in this,' and we won. It was amazing."
This is the fifth year that LSCS has qualified to participate in the championship. For Nutt, it was a bit intimidating to be one of the few two-year schools playing in the tournament.
"It was cold and windy that morning, and it took me a lot of mental preparation to get ready," Nutt said. "Plus, we went back and forth the whole day with the guys from UT."
According to their coach, Alan Wright, director of intramurals and sport clubs at Lone Star College-Kingwood, Straubel and Nutt beat University of Texas at Austin by just one stroke.
"I am excited to see Lone Star College at the top of a national event, especially when big schools are participating," said Wright. "We're blessed to have such a strong student activities program that supports our students, allowing them to participate without the burden of the expenses."
Both Nutt and Straubel agree.
"We feel pretty lucky that LSCS paid for this opportunity," said Straubel.
"It made it much more enjoyable not having to worry about that leading up to the tournament," added Nutt.
The LSCS Sport Club Conference qualifying event falls under the umbrella of the National Intramural Recreational Sports Association (NIRSA), an organization that provides education, development, and scholarships that foster quality recreational programs. This tournament served as a fundraiser for NIRSA.
In order to be eligible, students must be enrolled in at least six credit hours and have a 2.0 g.p.a. or higher. Each fall, LSCS hosts a regional qualifying tournament.
For more information about the LSCS Sport Club Conference golf tournaments, contact Alan Wright at (281) 312-1508, or Alan.F.Wright@LoneStar.edu.
LSC-Montgomery is located at 3200 College Park Drive, one-half mile west of Interstate 45, between Conroe and The Woodlands. For more information about the college, call 936.273.7000, or visit www.LoneStar.edu/montgomery.
With 78,000 students in credit classes, and a total enrollment of more than 90,000, Lone Star College System is the largest institution of higher education in the Houston area and the fastest-growing community college system in the nation. Dr. Richard Carpenter is the chancellor of LSCS, which consists of six colleges including LSC-CyFair, LSC-Kingwood, LSC-Montgomery, LSC-North Harris, LSC-Tomball and LSC-University Park, five centers, LSC-University Center at Montgomery, LSC-University Center at University Park, Lone Star Corporate College, and LSC-Online. To learn more visit LoneStar.edu.