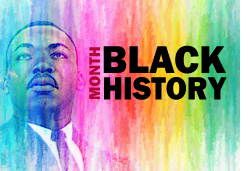 Come celebrate Black History Month this February at Lone Star College-CyFair with a performance, speaker presentations, movie and discussion events and a month-long library exhibition.
Don't miss "The Road to the Promised Land: Martin Luther King Jr. and the Civil Rights Movement" library exhibition on display Feb. 1 – 28 on the campus at 9191 Barker Cypress. This exhibition of Humanities Texas, the state affiliate of the National Endowment for the Humanities, features photographs, facsimiles of landmark documents as well as quotations by Dr. King and others engaged in the struggle for civil rights. Among people featured in the panel topics are Rosa Parks, Marian Wright Edelman, Jesse Jackson Barbara Jordan and Malcolm X, just to name a few.
The celebration of month-long events begins with a mid-day performance "I Had a Dream: A Conversation with a Friend" at 11:30 a.m. Feb. 4. During a dream, Dr. Martin Luther King Jr. meets actor Gregory Gibson Kenney at the Lincoln Memorial. Dr. King shares four speeches, how he wishes to be remembered and how fear is no longer a factor in Dr. King's survival. Kenney portrays both Dr. King and the narrator.
Two movies and follow-up discussions will be held at 6 p.m. Feb. 5 and at 3 p.m. Feb. 25 in the library, room 131. The first is a true story of a newly appointed African-American coach and his high school team on their first season as a racially integrated unit. In the second, 12 African American men are introduced aboard the bus as it leaves L.A. for the cross-country drive to D.C. where the Million Man March is being held. They have nothing in common except for their race and destination. Along the way, the men get to know each other and discuss various topics including their personal lives, their political beliefs and religious affiliations.
The first of three speaker presentations is part of the Learning, Inspiration, Fellowship and Enrichment (L.I.F.E.) program. "Jobs, Peace & Freedom" will be held at 10 a.m. Feb. 13 in the library, room 131. Professor James T. Jones of Prairie View A&M University revisits the historic civil rights March on Washington including the famous "I Have a Dream" speech by Dr. Martin Luther King, Jr.
The next two speaker presentations will be held in the Center for Academic and Student Affairs building, room 110.
First join Professor Dr. Ron Goodwin of Prairie View A&M University at 11:30 a.m. Feb. 19 as he gives a lecture on the historical development of Texas' black community as seen through the Texas Slave Narratives.
Then come back for "A Conversation with Black Franchise Owners: Standing on the Shoulders of Giants" at 1 p.m. Feb. 27. This event will feature Black business owners who have helped strengthen the Houston community by providing job opportunities and community development.

In addition to these events open to the community, LSC-CyFair students will compete for monetary prizes up to $100 in a student poetry contest using Dr. Martin Luther King, Jr.'s "I Have a Dream" speech as inspiration.
Co-sponsoring Black History Month are the Harris County Public Library LSC-CyFair Branch, Windows on the World and the Student L.I.F.E. Department. For information on any of these events, contact Anthony McMillan at 281.290.5997.