Lone Star College-Montgomery proudly announces Brandy Harvey, Erik Oslund, Matthew Samford, and Rachel Trackey as Faculty Excellence Award recipients for the 2012-2013 academic year.
"These faculty members are significant leaders in excellence, a key component of the LSC-Montgomery Maverick way," said Dr. Austin A. Lane, president of LSC-Montgomery. "We're proud of our first-class professors who work creatively and diligently to support the aspirations of our students."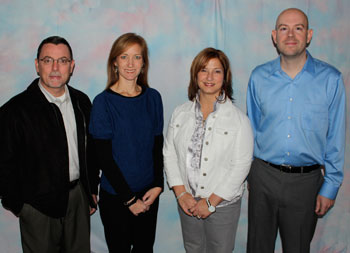 Lone Star College-Montgomery faculty members Matthew Samford, Brandy Harvey, Rachel Trackey, and Erik Oslund have been named as 2012-13 Faculty Excellence Award recipients.
The League for Innovation formally recognizes the best in higher education with Faculty Excellence Awards chosen from nominations received from member schools.
Dr. Brandy Harvey, a professor of English at LSC-Montgomery since 2009, teaches a wide range of courses from developmental English to advanced literature.
"My experiences teaching developmental English have been an enriching challenge," said Harvey. "I often learn much from my students' determination and find great satisfaction in facilitating their growth."
Harvey is highly involved with both campus and Lone Star College System committees and organizations, with emphasis on degree plan development and curriculum innovations.
"There is value in observing and discussing the ways in which we teach, assess, and achieve core course objectives," said Harvey. "I love the opportunity to exchange ideas with my colleagues, and thanks to their innovative approaches, I've grown as an instructor and as a professional."
Another Faculty Excellence Award winner is Erik Oslund, professor of mathematics. Oslund has been teaching at LSC-Montgomery for eight years.
"It is a great honor to be chosen by colleagues to win this award," said Oslund, who taught Trigonometry and College Algebra last fall. "I'm very interested in making sure that students understand that math is a language. It has it's own structure and rules. If you learn those rules, it becomes much more manageable."
Oslund incorporates both individual and group work into his classroom, as well as provide students with notes to guide them during lectures.
"It is very rewarding to watch someone who has struggled with math finally understand it," said Oslund. "I enjoy helping students achieve their goals."
Matthew Samford teaches psychology and serves as a faculty counselor, a position he considers very rewarding.
"My approach to students is very simple," said Samford, who holds a master's degree in psychology and is a licensed professional counselor. "I use humor to create a safe environment for students in both the office and classroom setting."
Samford has been at LSC-Montgomery for 12 years. He is a faculty sponsor for the college's newly formed Transfer Student Organization, a group for any student who plans to transfer to the university level at some point in the future.
Finally, the fourth recipient is Rachel Trackey, a faculty counselor who teaches various workshops and special presentations for students.
"The workshops provide me with the opportunity to teach multiple topics that range from study strategies to personality to relationships," said Trackey. "In many cases, the topics have been selected by the students based on their own interests, which makes each one a new experience."
Trackey, who has been full-time at LSC-Montgomery since 2008, is grateful for being nominated and selected for this award.
"The college has exceptional faculty, so it's an honor to have been selected for this award from such a deserving group of colleagues," said Trackey. "I enjoy my work, building on each students' current strengths and helping them develop a strategy to overcome obstacles and achieve their goals."
LSC-Montgomery is located at 3200 College Park Drive, one-half mile west of Interstate 45, between Conroe and The Woodlands. For more information about the college, call 936.273.7000, or visit www.LoneStar.edu/montgomery.
With 78,000 students in credit classes, and a total enrollment of more than 90,000, Lone Star College System is the largest institution of higher education in the Houston area and the fastest-growing community college system in the nation. Dr. Richard Carpenter is the chancellor of LSCS, which consists of six colleges including LSC-CyFair, LSC-Kingwood, LSC-Montgomery, LSC-North Harris, LSC-Tomball and LSC-University Park, five centers, LSC-University Center at Montgomery, LSC-University Center at University Park, Lone Star Corporate College, and LSC-Online. To learn more visit
LoneStar.edu
.