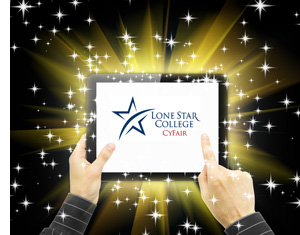 Lone Star College-CyFair's iPad pilot program is adding a new element of excitement in the classroom for both faculty and students.
"One of the college's goals is to apply emerging technology into teaching and learning," said Georges Detiveaux, manager of Instructional Technology and Adjunct Support. "And in terms of cutting edge, innovative technology, you can't get much cooler and more hip than iPad. Tablets and mobile devices are where it's at now."
Each semester, the college's Teaching and Learning Center staff checks out a limited number of iPads for semester-long use to select full-time and adjunct faculty applicants. Following an initial training with the TLC, they must also document their use of the iPad and share their successes and recommendations at an end of the semester best practices showcase, Detiveaux said.
"This pilot program gives faculty a whole semester to explore how useful an iPad may be such as having the freedom to use at conferences, teaching with it, downloading apps colleagues are using and deciding whether it is something viable for their discipline as well as possibly pursuing other funding sources to get one for themselves or department," he said.
Each semester different faculty representing different disciplines – nursing, philosophy, art, biology, sonography, math, French, accounting, sculpture, anatomy - are selected to participate.
Among some of the past participants are: Michelle Adams, Patrick Barton, Maria Florez, Valerie Jefferson, Katrieva Jones-Munroe, Jeremi Martin, Shawn Miller, Erik Neel, Brenda Rivera, José Rodriguez, Kristina Sampson, Suzanne Shield-Polk, Mark Thorsby, Padmaja Vedartham and Clay White.
FRENCH:
Detiveaux used the iPad in his French classes as a whiteboard connected to a projector, then passed around the iPad to students so everyone could write on it and participate, which saved time waiting for volunteers to go up to the board. In addition, he downloaded a lot of culturally relevant apps such as one that allowed them to virtually tour a French department store, giving a real-life context to the languages when discussing clothing.
Other faculty feedback on using the iPads in the classroom so far has been a resounding "yes it's making a positive impact," he said.
MATH:
The opportunity to work with the iPad has been a life-changing experience in Sampson's math classes from breaking down stereotypes of mathematics to helping students understand each step in a mathematical exercise.
"Through the creation of instructor videos with the iPad, students are soaring through the online courses," said Sampson. "The students continually provide rave reviews of the benefits of the videos in a greater understanding of the mathematical concepts."
Sampson said videos created with the iPad have also proven beneficial to other students as well, such as those who are sick for an extended period of time, returning to school after a long hiatus or just needing more explanation at a slower pace on a particular topic.
ACCOUNTING:
For Miller, the iPad completely changed his teaching style from writing on the white board with his back to the class to controlling his computer remotely allowing him to look at his students while teaching and to freely walk among the students to assist them as needed.
"I also used the iPad during our final exam review. I created a Jeopardy style game and acted as the host of the game show. The students would see the questions on the screen and I would see the answers on the iPad," said Miller. "This created a dynamic, interactive learning environment that helped the students learn accounting."
CERAMICS:
After Shield-Polk used iPads in her ceramics classes, a pilot project was started to use them in art classes through a Technology Grant that Laura Fisher of LSC-CyFair and Eric Sims of LSC-North Harris received.
"I used the iPad's video camera to film students as they worked on the potter's wheel and then to play it back using the classroom video system for them to view their techniques," said Shield-Polk. "I learned many new tricks for using the iPad for fast slide lecture prep I became absolutely attached to the device and just had to buy my own."
Shield-Polk said she also took her iPad to a conference for arts educators where she recorded images from the presenters' lectures as well as to take high-quality photos of art work in concurrent exhibitions that she could bring back to share in the classroom.
While the iPads are a fun and unique innovation in teaching, Detiveaux said, "technology, for example, digitally flipping through a book, is not for every learner. The iPad pilot program is not the answer, but a possible answer."
In addition to the iPads reserved for the pilot program, the TLC also has iPads for faculty to check out on a short-term basis for four hours to use for a class or they can check out a classroom kit with a suitcase of 10 for a class.
LSC-CyFair also offers iPad training sessions on a variety of topics - lecture capture apps, notetaking and collaboration apps, wireless projection options, presentation apps - to all faculty and staff.
For information on other college programs, go to LoneStar.edu/cyfair.