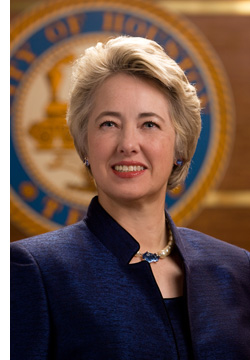 Lone Star College-CyFair's annual Women's Month, themed "Women in Power", features special guest speaker Mayor Annise Parker and her March 26 "From Dreams to Reality" presentation.
Houston's 61st Mayor and one of only two women to hold the city's highest elected office, Parker is responsible for all aspects of the general management of Houston and for enforcement of all laws and ordinances. Prior to becoming mayor in 2010, she spent six years as a City Council member and six years as City Controller. She is the only person in Houston history to hold the offices of council member, controller and mayor.
Don't miss hearing Parker's story at this free community event starting at 7 p.m. on LSC-CyFair's Main Stage Theatre at 9191 Barker Cypress. A question and answer session will follow.
LSCS Board of Trustees Member Linda Good will lead the preamble. Sponsoring this event are the Women's Month and Pride Week planning committees.
In addition, other Women's Month plans call for a suit drive benefitting Dress For Success® Houston, a gallery exhibition and author Dr. John Matteson to do a presentation on his book "The Lives of Margaret Fuller". There will also be an information fair featuring area women's organizations and a career preparation day with a makeup artist.
For more information, contact event co-chairs Brenda Rivera at Brenda.A.Rivera@LoneStar.edu or Rebecca Stasney at Rebecca.A.Stasney@lonestar.edu or go to LoneStar.edu/womensmonth-cyfair.