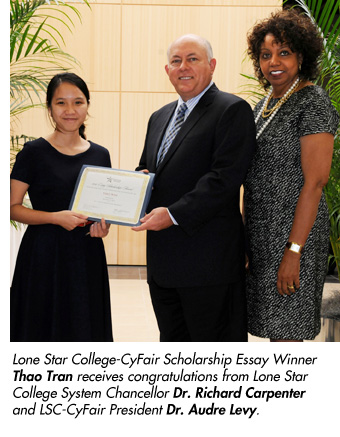 After only four months in the United States having moved from Vietnam, Thao Tran chose to attend Lone Star College-CyFair, a place and experience she did not expect to like as much as she does today.
Tran, who is the first in her family to go to college and will soon be transferring to the University of Houston, shared her story of "How My Community College Experience Changed My Life," along with five other Lone Star College System student essay winners, as part of the recent 20th annual Lone Star College Foundation's Chancellor's Breakfast.
At LSC-CyFair, Tran overcame communication challenges to take advantage of many opportunities from participating in class and in campus activities to working in the cafeteria, admission and finally as a Student Outreach And Retention (S.O.A.R.) Leader, who helped with new student orientation, high school visits and more.
"The minute I got accepted into the S.O.A.R. team, I found where I belonged on campus," she wrote. "All that time I learned a lot of leadership skills. I met very unique and awesome individuals."
Christine Timmerman said not only did Tran maintain a perfect 4.0 grade point average while working in S.O.A.R, she was probably the most enthusiastic leader of the team.
"She is unfailingly positive and was always ready to pitch in as needed. Thao is well liked by her peers and gets along with everyone. She was just a joy to have on our team," said Timmerman. "I know she works hard and as an international student has had to work through more challenges, than some other students. But her energy and will to succeed carry her through."
History professor Alex Smith said he was often amazed at the quality of work Tran turned in, and that she is an exceptional student who makes teaching worthwhile.
"She demonstrated a level of intellectual curiosity few students can match, and her grades were among the best I've ever had a student receive," he said. "She's a great human being … one of those kind, good-natured and hard working people. She undoubtedly will be a success in whatever career path she takes, because that's just the kind of person she is."
Although Tran was taking government to fulfill a course requirement, her professor Heidi Jo Green said Tran emerged as one of her top students.
"Thao is so dedicated to everything that she does," she said. "What a bright student with an amazing future."
Tran said with the support from her professors, advisors and new friends, she found confidence in her leadership and communication skills as well as courage to try harder every day to follow her dream of becoming a pharmacist.
"I am truly thankful for all the great experiences and all the wonderful people I have been lucky enough to encounter at Lone Star College," she wrote in conclusion of her winning scholarship essay. "They have all made a difference in my life and I hope someday, in the near future, I could become a great influence in someone else's life like that too."
Receiving a $1,000 scholarship from the LSC Foundation and representing each of the six LSCS colleges were Tran from LSC-CyFair, Ashley Trunbow from LSC-Kingwood, Sharon Johnson from LSC-Montgomery, Princess Villalta from LSC-North Harris, Alexandra Smith from LSC-Tomball and Felix Ruiz from LSC-University Park.
For information on other foundation events, go to LoneStarCollegeFoundation.org. For information on LSC-CyFair, go to LoneStar.edu/Cyfair.