Lone Star College-Montgomery's drama department will present William Shakespeare's A Midsummer Night's Dream April 11-13, at 7:30 p.m., and April 13, at 2 p.m., in the college's Performing Arts Center (Bldg. D).
General admission tickets are $10 (or $7 for seniors); however, there will be a discounted preview performance on Wednesday, April 10, at 5 p.m., with $5 tickets for community members and free admission for LSC-Montgomery students, faculty, and staff (with an i.d.).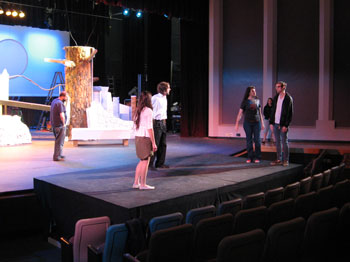 Cast members from LSC-Montgomery's production of A Midsummer Night's Dream are working on the opening scene of the play, which takes place primarily in a forest. Shows run April 11-13 at LSC-Montgomery.
Moonlight, mischief, and magic will dominate this production of Shakepeare's classic story, which portrays the events surrounding the marriage of the Duke of Athens, Theseus, to the Queen of the Amazons, Hippolyta. This includes the adventures of four young Athenian lovers and a group of six amateur actors who are controlled and manipulated by the fairies that inhabit the forest in which most of the play is set.
The cast of 20 and additional crew of six bring the story to life from a fairy tale perspective, complete with a variety of nymphs who take great pleasure in conjuring havoc for the mortal lovers who happen to land in their enchanted forest.
"This is one of Shakespeare's most accessible and action-driven plays," said Tim Campbell, associate professor of theatre and the play's director. "While our production certainly provides educational exposure to Shakespeare, we also hope it will be a lot of fun for the audience, as they journey into an enchanted forest teaming with romance and scheming fairies."
This play humorously celebrates the vagaries of love. With its several pairs of lovers, on-again, off-again romances, magic spells, fairies, and a bumbling troupe of would-be actors, the play is one of Shakespeare's most popular works for the stage.
"Students are working hard to digest and deliver heightened language, but also to breathe life into each character," said Campbell. "We've spent time on movement, diction, and clarifying what the characters are doing to each other, moment by moment, in the play. It's no small undertaking, and this particular group of students has demonstrated an exceptional work ethic."
The play has also been shaved down to just over an hour in order to make it accessible to a broader range of theatre-goers. All the characters remain. Audiences will laugh, gasp, cheer, and perhaps shed a tear of joy, as romance proves triumphant for all the characters involved.
To purchase tickets, contact Fong Chau, program coordinator for theatre/fine arts at LSC-Montgomery, at (936) 273.7021 or
Fong.T.Chau@LoneStar.edu
. Tickets can also be purchased online at
www.LoneStar.edu/Theatre-Montgomery
.
LSC-Montgomery is located at 3200 College Park Drive, one-half mile west of Interstate 45, between Conroe and The Woodlands. For more information about the college, call 936.273.7000, or visit www.LoneStar.edu/montgomery.
Lone Star College System has been opening doors to a better community for 40 years. Founded in 1973, LSCS remains steadfast in its commitment to student success and credential completion. Today, with 78,000 students in credit classes, and a total enrollment of more than 90,000, Lone Star College System is the largest institution of higher education in the Houston area and the fastest-growing community college system in the nation. Dr. Richard Carpenter is the chancellor of LSCS, which consists of six colleges including LSC-CyFair, LSC-Kingwood, LSC-Montgomery, LSC-North Harris, LSC-Tomball and LSC-University Park, five centers, LSC-University Center at Montgomery, LSC-University Center at University Park, Lone Star Corporate College, and LSC-Online. To learn more visit LoneStar.edu.