Most English lovers agree that literature tantalizes the soul, but what about your appetite? A themed English literature course at Lone Star College-Montgomery is bringing food and prose together in English 2341: Food and Feasting in Literature, Art, and Film.
Taught by Ron Heckelman, a professor of English at LSC-Montgomery for more than 15 years, the course aims to offer a fresh perspective on literature while appealing to foodies, literature lovers, and historians alike.
"This course has attracted a variety of students," said Heckelman, who's been teaching the course for about 10 years. "The discipline of food studies has emerged as a major subfield within literary and critical theory."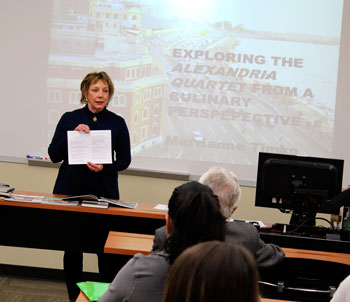 Food historian Merrianne Timko recently spoke to students in LSC-Montgomery's Food and Feasting in Literature, Art, and Film course, a themed English course that teaches literature from a culinary perspective. The course is one of many themed courses offered at LSC-Montgomery.
Recently, Merrianne Timko, the data standards manager for The Museum of Fine Arts Houston (MFAH), brought her 25 years of experience and education in art history and culinary research to students in the class during her presentation on British writer Lawrence Durrell and his Alexandria Quartet.
According to Timko, Durrell references food and wine more than 200 times in the Quartet, which was published between 1957 and 1960. The 100th anniversary of Durrell's birth was in 2012, renewing an interest in his literary career among a new generation of scholars.
"Although many volumes have been written on Durrell's literary works, my research is apparently the first to focus on it from a culinary perspective," said Timko, who frequently lectures and presents at conferences worldwide.
In addition to guest speakers, the course includes a trip to the MFAH, where Timko has served as one of the docents during the students' tour, providing an overview of works depicting food and drink.
One of Heckelman's students, Penny Watson, admits that before this class, she'd often gloss over the meals in movies or books, "playing little heed to their significance."
"I've learned that by reading or examining art and film with the hidden meanings of food in mind, I am able to better understand gender roles and examine cultural attitudes," said Watson, who graduated from LSC-Montgomery in 2012, but continues to take Heckelman's courses to prepare for her bachelor's degree in English. She will start at Sam Houston State University this fall. "This insightful perspective opened up a new way of reading these works that I had not previously attempted. With all this in mind, it is clear that this class is truly cutting edge."
Timko believes that students are fortunate to be able to take this course.
"It is a wonderful introduction to the multi-faceted field of food studies," said Timko. "Even if one does not wish to pursue more formal work in the field, they can be exposed to the breadth of the subject and begin to view menus in restaurants or works of art in museums in a new light."
While this course is only offered during the spring semester, Heckelman and other English professors are teaching several themed English courses this fall, including Writing for a Better Future (ENGL 1301); Health Occupations (ENGL 1301); Love in Literature and Film (ENGL 1302); Reading and Writing Across the Curriculum (ENGL 1302); Speculative Fiction: The Comic Book Hero (ENGL 1302); Visual Arts and Fear (ENGL 1302); Speculative Fiction and Screenwriting (ENGL 2307); and Comedy, Humor and Satire in Literature, Art & Media (ENGL 2341).
"These courses are a win-win situation for everyone," said Heckelman. "Teachers do a better job when they are more excited about what they teach, and students do a better job at writing when they are in a class they want to be in."
Registration for the fall semester begins April 10, with classes beginning August 26.
For more information, visit LoneStar.edu/registration.
LSC-Montgomery is located at 3200 College Park Drive, one-half mile west of Interstate 45, between Conroe and The Woodlands. For more information about the college, call 936.273.7000, or visit www.LoneStar.edu/montgomery.
Lone Star College System has been opening doors to a better community for 40 years. Founded in 1973, LSCS remains steadfast in its commitment to student success and credential completion. Today, with 78,000 students in credit classes, and a total enrollment of more than 90,000, Lone Star College System is the largest institution of higher education in the Houston area and the fastest-growing community college system in the nation. Dr. Richard Carpenter is the chancellor of LSCS, which consists of six colleges including LSC-CyFair, LSC-Kingwood, LSC-Montgomery, LSC-North Harris, LSC-Tomball and LSC-University Park, five centers, LSC-University Center at Montgomery, LSC-University Center at University Park, Lone Star Corporate College, and LSC-Online. To learn more visit LoneStar.edu.