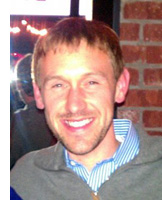 Lone Star College-CyFair history professor Dr. Blake Ellis was recently awarded a fellowship to attend the National Endowment for the Humanities (NEH) Summer Institute.
Ellis will spend two weeks in Georgia participating in the institute titled, "African American History and Culture in the Georgia Lowcountry: Savannah and the Coastal Islands."
This summer institute has been designed to address broad themes of race and slavery in American history and will focus on site-specific experiences of communities in and around Savannah from the late 18th through the early 20th centuries.
"I'm thrilled to have the chance to study the African American experience in the Georgia lowcountry and the larger Atlantic world," said Ellis. "I'm especially excited to explore how geography shaped the development of slavery in Savannah and the surrounding coastal islands."
Ellis will also have the opportunity to share what he learns at the NEH institute with the CyFair community during the 2013-2014 academic year.
"I am already planning to share my experiences with students, colleagues and the community through at least one public presentation," he said. "I also plan to integrate my research into the classroom by restructuring my U.S. history courses for the fall semester."
For information on NEH, go to http://www.neh.gov/. For information on LSC-CyFair or NEH presentations in the upcoming school year, go to LoneStar.edu/cyfair.