Lone Star College-CyFair's annual Women's Month and annual Gay Pride Week committees partnered this year to bring special guest speaker Mayor Annise Parker to campus for a presentation titled "From Dreams to Reality."
In her community presentation "From Dreams to Reality," Mayor Parker described her journey of becoming the city's mayor. Prior to becoming mayor in 2010, she spent six years as city council member and six years as city controller. She is the only person in Houston history to hold the offices of council member, controller and mayor.
"We ended our Women's Month events with two inspirational speakers Mayor Annise Parker and Lone Star College System Board of Trustees Dr. Linda Good," said Brenda Rivera, Women's Month committee co-chair with Rebecca Stasney. "We are pleased that so many students were able to attend and be inspired by the speakers' triumph over their respective obstacles."
Among other Women's Month events a suit drive benefitting Dress For Success® Houston, a gallery exhibition and Pulitzer Prize-winning author Dr. John Matteson to do a presentation on his book "The Lives of Margaret Fuller" as well as an information fair featuring area women's centers and a make-up artist who advised students how to dress and wear make-up for interviews.
Mayor Parker's presentation not concluded the events for Women's Month, which had a theme of "Women in Power," but also kicked off another successful LSC-CyFair Gay Pride Week, which is held to raise awareness of issues facing Gay, Lesbian, Bisexual and Transgender students.
"We were also excited about this year's Pride Week because we were celebrating our 10th anniversary," said Professor Dr. Aaron Alon, GLBTA co-sponsor with Professor Blake Ellis.
In addition to Mayor Parker's presentation, the week-long celebration featured panelist presentations titled "GLBTQ&A:What do all of these labels mean?" and "GLBT(R): Gender, Sexual Orientation and Religion," as well as a Pride Week Amazing Race field day. Special guests included The Rev. Dr. Michael Diaz and Mark Eggleston of Resurrection Metropolitan Community Church and Cristan Williams of the Transgender Foundation of America.
For information on additional college events, go to LoneStar.edu/cyfair.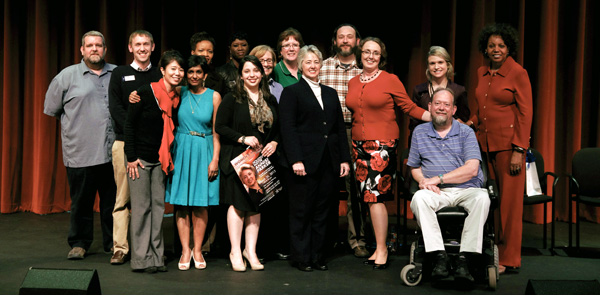 From left are Lone Star College-CyFair faculty members Rob Coyle, Blake Ellis, Fay Lee, Padmaja Vedartham, VP for Student Learning Dr. Feleccia Moore Davis, Dean Kim Hubbard, Brenda Rivera, Esther Robinson, Sandra Harvey, Mayor Annise Parker, Matt Turner, LSCS Board of Trustee Dr. Linda Good, Dr. Jim Good, Rebecca Stasney and LSC-CyFair President Dr. Audre Levy.