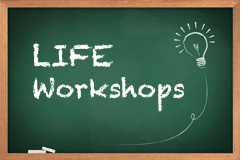 Enjoy learning about books to read and food to eat this summer as well as past lives and a video dance performance in upcoming June workshops.
Lone Star College-CyFair'sLearning, Inspiration, Fellowship, and Enrichment (L.I.F.E.) programs are free and heldWednesdays from 10 a.m. to 11 a.m. in the library (Room 131 unless otherwise noted)at 9191 Barker Cypress.
June 5 — Sizzling Summer Reads

Let bibliophile and Blue Willow Bookshop owner, Valerie Koehler, give you the skinny on what to read this summer.
June 12 — Relive Your Past Life



Stephen Ruback helps you discover new and exciting realities about yourself by facilitating recall of your past lives. Past life influences are many, some subtle, and some not so much. Personal discussion available after the presentation
June 19 — Dance Salad Festival



Every year some of the best and unusual dance companies from around the world come to Houston to perform at the Wortham Center. These dancers are selected by Nancy Henderek, a former dancer and creative diva. A video of the March festival will be shown in Recital Hall, ART 102.
June 26 — Red, White, and Blue Eating



Get the party started with fresh and fun summer foods in patriotic colors. Lindsey Bartlett, Tracy Williams, and Dorrie Scott share their favorite recipes.
Call the library at 281.290.3214 for L.I.F.E. program information or go online to LoneStar.edu.