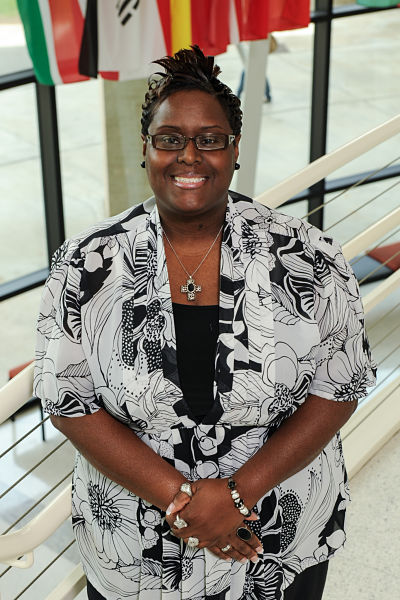 Kimberly White, a student at Lone Star College-North Harris, learned later on in life that her education was important to her, so she decided to go back to school to earn her GED.
While initially embarrassed to tell people that she had not graduated high school, White now has a new perspective and wants to inspire others by telling her story.
"I was at the point where I needed to establish a title in my life, said White. " I am glad that it clicked before I was too old to go back to school."
After spending more than 15 years out of the classroom, White realized that she had made a mistake by not finishing high school, and decided that it was not too late to finish what she had started so many years before.
White heard about a GED preparation class at Lone Star College-Greenspoint Center, and immediately registered for the class. While a little hesitant due to her past school experiences, she proceeded to move forward with the coursework.
When it came time to take the test, White's scores on the math were not as high as she had hoped for. While others might have given up, White pushed herself to study even harder.
When White took the math test for the second time, she amazed herself by her scores. That was a great day for White. Not only had she passed the portion of the test that she had struggled on, but she had succeeded in earning her GED.
At 36 years old, White made the first step to starting a career, by obtaining her GED. Like many, she had some struggles along the way, but through persistence and dedication she succeeded in reaching her first goal on her new journey in higher education.
"Education is important, and because it is so important, I have made it a priority in my life," said White. "Now that I am older, I am actually enjoying my classes and enjoying learning."
On Thursday, May 30 at 6:30 p.m., White will be walking the stage as one of more than 300 students who completed the GED program at LSC-North Harris in the past year. She will have her head held high, knowing that all of her hard work has paid off.
Starting this summer, White will also continue her path toward her next goal by taking a Certified Nurse Assistant course. She plans to obtain her associate degree, and eventually becoming a licensed vocational nurse or physical therapist.
Lone Star College-North Harris is located at 2700 W.W. Thorne Drive, one-half mile south of FM 1960 East, between Aldine-Westfield and Hardy Roads. For more information about the college, call 281.618.5400 or visit LoneStar.edu/NorthHarris.
Lone Star College System has been opening doors to a better community for 40 years. Founded in 1973, LSCS remains steadfast in its commitment to student success and credential completion. Today, with 78,000 students in credit classes, and a total enrollment of more than 90,000, Lone Star College System is the largest institution of higher education in the Houston area and the fastest-growing community college system in the nation. Dr. Richard Carpenter is the chancellor of LSCS, which consists of six colleges including LSC-CyFair, LSC-Kingwood, LSC-Montgomery, LSC-North Harris, LSC-Tomball and LSC-University Park, five centers, LSC-University Center at Montgomery, LSC-University Center at University Park, Lone Star Corporate College, and LSC-Online. To learn more visit LoneStar.edu.
###