Sunday April 28 was not just another day at the Lone Star College-CyFair Branch Library because on this day, the 10 millionth item was checked out marking a new circulation milestone.
"Our library has grown so much since we opened in August 2003," said Director of Library and Information Services Mick Stafford. "As a joint public and college library, our staff serves college students and staff as well as community members of all ages."
By the end of the first month, 12,517 items had been checked out; 1, 676 reference questions had been answered; 111 children and 98 adults had attended library programs and 270 students had taken 13 instruction sessions.
Ten years later, the Harris County Public Library LSC-CyFair Branch not only provides books and dvds, but many programs, services and opportunities for personal and professional enrichment.
"Our weekly programs for adults, teens and children now attract nearly 60,000 people a year," said Stafford.
Among the programs available are Learning, Inspiration, Fellowship and Enrichment (L.I.F.E.), Business Success Seminars, the Prom Closet, book clubs, computer workshops, storytimes and the Summer Reading Program, just to name a few.
"We have also hosted travelling exhibitions on Alexander Hamilton, the Negro League Baseball, Abraham Lincoln, Israel, Civil Rights and Latino literature as well as a variety of speakers such as author and travel host Rick Steves and the "People's Lawyer" Richard Alderman," said Stafford. "During the Fall 2013 semester, we will have a series of programs in support of our Muslim Journeys grant."
Student learning is supported through research-based library instruction sessions for classes across all disciplines, he said. Through this past April, librarians have met with 400 classes to show students how to find and effectively use information.
The library staff has also partnered with faculty to provide workshops for students on academic integrity that 700 students attended last semester. These workshops provide examples and strategies on how to use information ethically and provide proper documentation for the sources used in their research.
LSC-CyFair's Friends of the Library supports many library and campus programming and initiatives, in part through sales at the bookstore.
"In fact, this volunteer organization has already fully-endowed a Lone Star College Foundation scholarship earmarked for non-traditional students and are well on their way to funding a second scholarship to be awarded to a veteran of our armed forces," said Stafford.
When a scholarship is fully funded at $15,000, it provides a $1,000 annual scholarship for students. For information on establishing such a scholarship, contact Lone Star College Foundation Executive Director Darcy Mingoia at 832.813.6636.
"As the library continues toward another circulation milestone, we will continue to find opportunities to connect with the community we serve," said Stafford.
For information on any library exhibitions, programs or services, go to LoneStar.edu/library.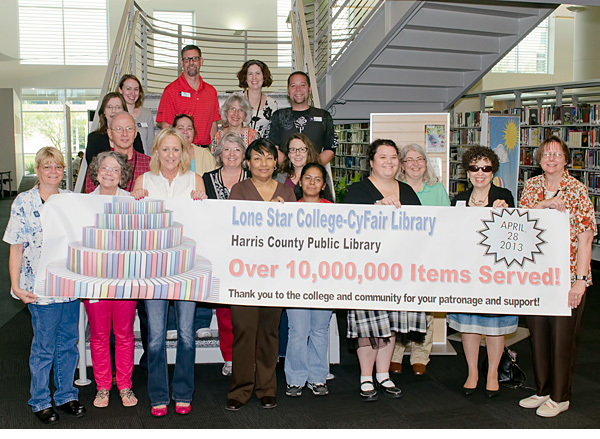 Harris County Public Library System's Rhoda Goldberg, second from right in front row, joins Lone Star College-CyFair Branch Library's Mick Stafford, Director of Library and Information Services, second from left in top row, and staff to celebrate the joint public and college library's 10 millionth circulation milestone.