Students from Lone Star College-Montgomery's live entertainment technology (LET) program are using timing and technology to bring concert goers, church worshippers, and theatre enthusiasts the greatest sound and lighting experience possible.
The LET program trains students to design, set-up, and operate lighting, video, and audio equipment. This includes microphones, sound speakers, projectors, recording equipment, sound and mixing boards, and more—everything needed for an elaborate production.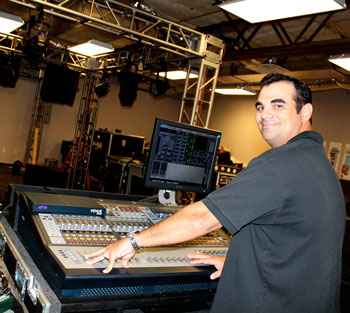 LSC-Montgomery student Boyd Edwards, pictured here operating a digital sound console, found employment as a sound and lighting technician and assistant lighting director just weeks after starting the college's Live Entertainment Technology program. The program trains students to design, set-up, and operate lighting, video, and audio equipment.
"Not only do we learn how to make the lights look good or the band sound good, we can network and fix all our own gear," said Boyd Edwards, a student who started the program one year ago. A 40-year-old savvy businessman from Magnolia, Edwards was looking to do "something in music and something that is fun." "What I found in LSC-Montgomery's LET program is so much more. It's the perfect mix of art and science."
According to Rob Kreps, LET program director and associate professor of theatre at LSC-Montgomery, specialists trained in this field can work in the traditional theatre and concert hall venues, but also with corporations, production companies, churches, hotels, sporting venues, design agencies, and more.
"One has to be creative, self-sufficient, and able to adapt to an ever-changing environment," said Edwards, who within a few weeks of starting the LET program at LSC-Montgomery, was hired with Audio Visual Professional Group as a sound and lighting technician and assistant lighting director. "Event and AV companies will always need trained people to run their shows. Really where this industry thrives is with corporations, which like to go all out for their events."
According to the U.S. Bureau of Labor and Statistics, the projected growth for this industry is 14 percent, with employees earning an average salary of $39,870. Kreps said that roughly 90 percent of program graduates find employment with program partners before or upon graduation.
"For a long time in this industry you learned on the job as a 'hired hand,' but the problem there is it takes forever to learn all you need to know and it doesn't really cross train you for industry standards," said Edwards. "This LET program teaches students how to use and fix machines and how to set up sound equipment and make it sound good, which makes you much more appealing to an AV company."
When Justin Thompson graduated in 2009 as LSC-Montgomery's first LET associate degree holder, he was already working as a media technician at Lone Star College-Montgomery. He has since worked his way up to a transfer and subsequent promotion as media services manager for Lone Star College-University Park.
"With my degree and work experience, I was the perfect candidate for that position," said Thompson. "The LET program not only had great teachers with extensive knowledge in the field, but allowed me to work with equipment that is currently being used in the field. This allows students to hit the ground running when hired, instead of spending a lot of time learning how to use the equipment."
LSC-Montgomery is the only college in the state—and one of only a few nationwide—that offers a degree in live entertainment technology. In fact, the college offers four levels of training—a marketable skills award, which can be completed in one semester; a Level I certificate, which can be completed in one year; a Level II certificate, which can be completed in a year-and-a-half; and an associate of applied science degree, which can be completed in two years. Additionally, the college will be adding a film and video production component to the program in fall 2014. Courses for the certificates apply to the associate of applied science degree, and many courses will transfer to other colleges as a springboard for a degree in other fields including technical theatre, lighting design, and computer systems management.
Students in the program train in the college's audio video lighting lab and receive information and guidance from top industry professionals like The Woodlands Church, Audio Visual Professional Group of the Woodlands, Brightstar Productions, PSAV, and Toucan Productions.
For more information on LSC-Montgomery's LET program, visit LoneStar.edu/audio-visual-dept.
LSC-Montgomery is located at 3200 College Park Drive, one-half mile west of Interstate 45, between Conroe and The Woodlands. For more information about the college, call 936.273.7000, or visit www.LoneStar.edu/montgomery.
Lone Star College System has been opening doors to a better community for 40 years. Founded in 1973, LSCS remains steadfast in its commitment to student success and credential completion. Today, with 78,000 students in credit classes, and a total enrollment of more than 90,000, Lone Star College System is the largest institution of higher education in the Houston area and the fastest-growing community college system in the nation. Dr. Richard Carpenter is the chancellor of LSCS, which consists of six colleges including LSC-CyFair, LSC-Kingwood, LSC-Montgomery, LSC-North Harris, LSC-Tomball and LSC-University Park, five centers, LSC-University Center at Montgomery, LSC-University Center at University Park, Lone Star Corporate College, and LSC-Online. To learn more visit LoneStar.edu.