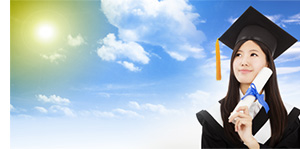 How can someone with a busy lifestyle graduate with an associate degree in less than two-and-a-half years while only taking classes only at night or on weekends? Through Lone Star College-CyFair's new Evening-Weekend Academy pilot program.
"This new Evening-Weekend Academy pilot program is uniquely different from other evening and weekend programs in that it offers four different complete degree plans with a realistic course load for people who have full-time lives," said Brenda Lopez-Piatiak, Evening and Weekend College program manager and advisor. "The pilot program is designed for students who are managing work schedules, family responsibilities, spouses and many of the same facets of life, just like you."
Each of the four programs – associate of arts, associate of science, core transfer and core weekend – offers a different combination of course times and days. Programs are also structured in a way that secures a spot for students in classes each semester, eliminating the hassle and uncertainty of having to guess when a class is going to be offered and hoping that it fits into their scheduled, said Piatiak.
The Evening-Weekend Academy pilot program allows for other classes to fit into individual degree plans for those seeking faster graduation, she said. In addition, each program has a designated cohort advisor who is able to register students for the following semester during advising visits.
"When you enter one of the Evening-Weekend Academy programs, you make a commitment to complete that program," said Piatiak. "Not only is your seat saved for each class of that program, but you become part of a learning cohort in which you will develop stronger academic relationships with your classmates. You will take multiple classes together, you will share ideas, workshops, tutorials and life experiences, but most of all - you will share a common goal - graduation."
The Evening-Weekend Academy student follows the same admission requirements as all programs on campus. New students must complete all New Student Orientation procedures and submit assessment scores or take an assessment test. In addition, admission into any one of the four program options is contingent upon college readiness.
Registration is currently under way for Fall with evening classes starting Aug. 26 and weekend classes starting Sept. 6.
For information on this Evening-Weekend Academy pilot program and to meet with a program advisor, contact Piatiak at ewcollege@LoneStar.edu or call 832.482.1070 or go online to LoneStar.edu/EW-Academy.