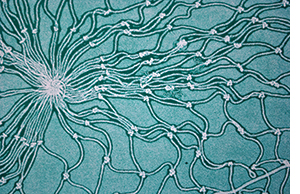 The Bosque Gallery's exhibition, "A Thread Runs Through," will feature the talent of local artist and printmaker Cathie Kayser this summer June 11 through July 23 at Lone Star College-CyFair.
Working with various printmaking techniques such as lithography, etching, relief and monotype, Kayser draws source material and inspiration from her collection of artifacts and images in this exhibition with her self-proclaimed theme of loss.
"Over the last several years I have assembled a library of images: my drawings and photographs, maps, charts and graphs, abstract textures. On any given day I can walk into my studio, pull multiple images … use an existing matrix or create a new one … to make new compositions," she explains. "A thread runs through my body of work. The thread is loss: loss of parents, loss of purpose, loss of direction, loss of balance. This thread unifies my work."
This sense of loss is given aesthetic form by the way in which she assembles visual information while combining old, found, and newly created elements in her prints.
Come to see the exhibition featured in conjunction with PrintHouston and stay to meet the artist at a reception held 4:30 p.m. – 6:30 p.m. Thursday, July 18.
The Bosque Gallery is located in the Center for the Arts building on the Barker Cypress campus at 9191 Barker Cypress. Gallery hours are 10 a.m. to 1 p.m. Monday through Wednesday.
For gallery information, go to LoneStar.edu/bosquegallery or call 281.290.5273.