Lone Star College-Montgomery's drama department is presenting the Tony Awarding-winning musical Avenue Q, July 11-13, at 7:30 p.m. each evening, with a matinee show on July 13, at 2:00 p.m. Plus, there will be a preview performance on Wednesday, July 10, at 5:30 p.m., with $5 tickets for community members and free admission for LSC-Montgomery students, faculty, and staff with a valid i.d.
All attendees should be advised that this show contains adult situations and adult language. Discretion is strongly advised.
In this laugh-out-loud adult musical, Avenue Q tells the timeless story of a recent college graduate named Princeton who moves into a shabby New York apartment on Avenue Q. As he begins his new life, Princeton makes connections and friendships with a rambunctious group of friends and other colorful individuals that make up Avenue Q.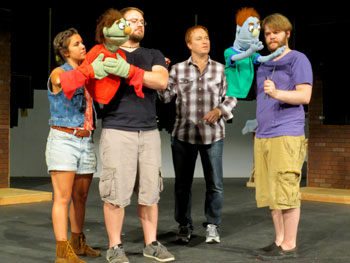 Some of the puppets in LSC-Montgomery's production of Avenue Q require two actors. Kevin Noonchester (third from left), a cast member from the original Broadway production of Avenue Q, instructs LSC-Montgomery students MacKenzie Haffey (far left) and Christopher Young (second from left) during a rehearsal with Tanner Bench (far right). Intended for mature audiences only, Avenue Q will be playing at LSC-Montgomery July 11-13.
Incorporating the use of puppets, Avenue Q takes adult audience members back to their childhood (by using puppets), while addressing adult situations and adult matter.
"This show is not appropriate for children, but rather for adults who have struggled to find their way in the 'real world,' searching for love or wondering what their purpose in life is after graduating college," said Dr. Mark Marotto, music director and associate professor of music at LSC-Montgomery.
Avenue Q, which requires both people and puppet to produce, was cast through an open audition process. The students selected have showcased a high desire to learn the skills of puppeteer, while continuing to develop their skills as actors.
"The actors were challenged with adding another layer of difficulty in preparing for their roles," said Tiffany Nirider, choreographer and dance professor at LSC-Montgomery. "They are charged with not only learning the script, mastering the music/singing, and embodying movement and choreography, but also bringing these puppets to life in a way that expresses every subtlety and nuance of these characters' personalities. We have a fantastic cast, and I look forward to seeing how they will develop their characters."
The LSC-Montgomery drama department invited Kevin Noonchester, member of the first company of Avenue Q to leave New York and go to Las Vegas, to the college to work with the students. Noonchester incorporated elements of the original Broadway choreography and put the students in a one week puppet boot camp. Noonchester has also participated in "puppet improv" as part of the Jim Henson Company's "Puppet Up" troupe.
"We are excited to have Kevin working with our students," said Tim Campbell, director and associate drama professor at LSC-Montgomery. "To the audience, the show may seem wild and frothy, but backstage, it is a complicated production that demands relentless commitment and attention to detail from every cast and crew member."
Avenue Q opened on Broadway in July of 2003 and won three Tony Awards, including Best Musical. The show has been reproduced in Las Vegas and in the West End, along with national tours around the country.
"This show lampoons and turns upside down every sacred cow imaginable," said Campbell. "Nothing and no one is exempt. As a result, a hopeful message emerges with a fresh and gusty sense of humor. That message is: 'Hey, nobody's perfect; life isn't perfect; but relationships matter. Try to make the best of whatever you've been given, here and now.' Avenue Q is bawdy, outrageous, a lot of fun, and loaded with heart. Audience members may find themselves asking, 'Did I really just laugh at that!'"
This show is not recommended for young audiences due to the adult content contained in this show. Persons under 18 must be with a legal guardian, and children under 13 will not be admitted.
For information about tickets or the show, contact Fong Chau, program coordinator for theatre/fine arts at LSC-Montgomery, at (936) 273-7021, or Fong.T.Chau@LoneStar.edu. Tickets can also be purchased online at www.LoneStar.edu/Theatre-Montgomery.
LSC-Montgomery is located at 3200 College Park Drive, one-half mile west of Interstate 45, between Conroe and The Woodlands. For more information about the college, call 936.273.7000, or visit www.LoneStar.edu/montgomery.
Lone Star College System has been opening doors to a better community for 40 years. Founded in 1973, LSCS remains steadfast in its commitment to student success and credential completion. Today, with 78,000 students in credit classes, and a total enrollment of more than 90,000, Lone Star College System is the largest institution of higher education in the Houston area and the fastest-growing community college system in the nation. Dr. Richard Carpenter is the chancellor of LSCS, which consists of six colleges including LSC-CyFair, LSC-Kingwood, LSC-Montgomery, LSC-North Harris, LSC-Tomball and LSC-University Park, five centers, LSC-University Center at Montgomery, LSC-University Center at University Park, Lone Star Corporate College, and LSC-Online. To learn more visit LoneStar.edu.