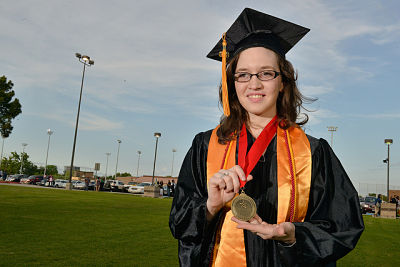 Hannah Musgrove, a recent graduate of Lone Star College-North Harris started off the semester knowing that she had one last honors project to present before she could graduate. Musgrove took the opportunity to choose a project that would be fun, but personal as well.
When it came time to decide on what her research topic would be, Musgrove chose to research the artistic significance of the gravestones in Mueschke Cemetery, located just down the road from the college. She had added interest in this project, because she is the third-generation granddaughter of the cemetery's founder, Paul Mueschke.
Musgrove had wondered about her family history and the stories that had been passed down, but had always wanted to learn more. This was her opportunity to find out what she could uncover.
During the spring semester of 2013, Musgrove worked with other honors students to catalog the remaining headstones, and survey the cemetery for historical preservation. While working on the project, Musgrove learned not only about the gravestones at the cemetery, but also about her family history.
"This was a remarkable project honoring local history, and many of the area's early families including the Mueschke family," said Dr. Theresa McGinley, dean of instruction at LSC-North Harris.
During her research for her project, Musgrove learned that Paul Mueschke owned hundreds of acres of land in the Westfield area, a once-vibrant railroad town located alongside the International-Great Northern railroad between Aldine and Old Town Spring. Among the graves that were surveyed for the project were Paul Mueschke's and several of his family members'.
After hours of compiling information, Musgrove completed her project, learning that there was in fact evidence to support her topic and the significance of the gravestones.
"There are master artists who have sculpted beautiful stones; however, critics have not recognized these pieces of art for that they are," said Musgrove. "I am still passionate about these stones, and if the stones were seen as art, they would not have been abandoned to decay."
For Musgrove, who completed her project and graduated, the project was a great success, allowing her to explore her family history and assist in the preservation of the cemetery. The relationships she forged with its caretakers, have also opened the site up to future honors projects for additional students.
Musgrove graduated as an Honors Scholar with Distinction from LSC-North Harris. While attending LSC-North Harris, Musgrove was a member of the Pi Theta Kappa Honor Society, and she served as Historian to the Honors Student Organization. Musgrove also had the distinct honor of presenting at the 2012 and 2013 Great Plains Honors Conferences and 2012 Gulf Coast Intercollegiate Consortium.
Musgrove's future plans include transferring to a four-year university, and pursuing a career as a pediatrician.
Lone Star College-North Harris is located at 2700 W.W. Thorne Drive, one-half mile south of FM 1960 East, between Aldine-Westfield and Hardy Roads. For more information about the college, call 281.618.5400 or visit LoneStar.edu/NorthHarris.
Lone Star College System has been opening doors to a better community for 40 years. Founded in 1973, LSCS remains steadfast in its commitment to student success and credential completion. Today, with 78,000 students in credit classes, and a total enrollment of more than 90,000, Lone Star College System is the largest institution of higher education in the Houston area and the fastest-growing community college system in the nation. Dr. Richard Carpenter is the chancellor of LSCS, which consists of six colleges including LSC-CyFair, LSC-Kingwood, LSC-Montgomery, LSC-North Harris, LSC-Tomball and LSC-University Park, five centers, LSC-University Center at Montgomery, LSC-University Center at University Park, Lone Star Corporate College, and LSC-Online. To learn more visit LoneStar.edu.
###