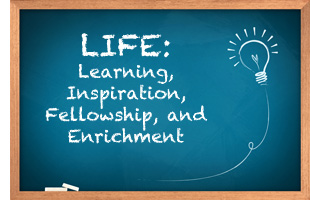 Mark your calendar for recipes of Macedonian cuisine, a critical look at the American diet, Tejana women's contributions and Islamic calligraphy lessons in upcoming September workshops.
Lone Star College-CyFair's Learning, Inspiration, Fellowship, and Enrichment (L.I.F.E.) programs are free and held Wednesdays from 10 a.m. to 11 a.m. in the library (Room 131 unless otherwise noted) at 9191 Barker Cypress.
September 4 — Macedonian Cuisine: Zana Kadriu shares secret recipes from her family in Macedonia. On the menu: stuffed grape leaves, kabobs with pita bread, a taste of Macedonian ajvar (veggie paste), and a special dish called "country meats made in an earth pot." Save room for dessert.


September 11 — Old Grant Wilson Had a Farm: Don't shoot the messenger, but Grant Wilson, farmer and former lobbyist, uncovers the dirty secrets of Big Agriculture and reveals an action plan to improve the standard American diet (SAD).


September 18 — The Tejana Diaries: Learn all about how Tejanas, Texas women of Spanish-Mexican origin, have contributed to Texas history with our own Tejana, Paula Gonzales. Celebrate Hispanic Heritage Month.


September 25 — Islamic Calligraphy: Fahim Somani, calligrapher and mixed media artist, demonstrates this fine art and its role in Islamic culture. Visit fahimsomani.com for more about the artist and his work.
Call the library at 281.290.3214 for L.I.F.E. program information or go online to LoneStar.edu.