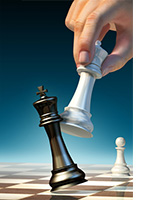 Come to compete or to observe, but don't miss the Simultaneous Blindfold Chess Exhibition featuring Grandmaster Timur Gareev Saturday, Sept. 14 at Lone Star College-CyFair.
Gareev, who placed third in the U.S. Chess Championship in St. Louis, will showcase his blindfold chess talents as he prepares to break the World Blindfold Record this year. In addition, he will face 32 players, four flights of 8 players each, over a 12-hour period.
Morning, mid-morning, noon and afternoon games are available for those interested in participating in the exhibition. Prices are $20 for the first family member and $10 for each additional family member. All proceeds will be donated to a local children's charity.
To register for this exhibition or for event information, email todd.thomas@lonestar.edu or go to LoneStar.edu/cyfair.