What was the hottest new building in Houston in 1913? Find out this and more about city life 100 years ago at Lone Star College-CyFair's Oct. 30 talk.
Join Mike Vance - local broadcaster, author, documentary filmmaker, historian and story teller – for the "Time Travel to the Bayou City, 1913" free Learning, Inspiration, Fellowship, and Enrichment (L.I.F.E.) program. This Texas historian will cover a little bit of everything from segregation to the daily life of Houstonians in a fun overview enhanced with period images.
In 2005, Vance founded Houston Arts and Media, a non-profit organization that creates innovative ways to educate Texans about their history. In addition to a litany of award-winning national and regional voice over work to his credit, Vance's story-telling talent has led to numerous honors from the award-winning regional history television program Postcards from Texas to the 2011 Platinum Award in Documentary at World Fest/Houston International Film Festival for his feature length documentary, Houston: A Nation's Capitol.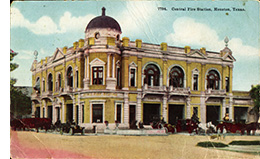 "My family upbringing was always deep in historic sites visits for as long as I can recall. So history just became a part of me from the start," said this native Houstonian story teller, who serves on the Harris County Historical Commission and advisory boards of various regional history non-profits.
Vance's Houston/Texas history DVDs and book will be available for purchase after the Oct. 30 L.I.F.E. program, which will be held from 10 a.m. – 11 a.m. in the library, room 131 at 9191 Barker Cypress Road.
Call the library at 281.290.3214 for L.I.F.E. program information or go online to LoneStar.edu.