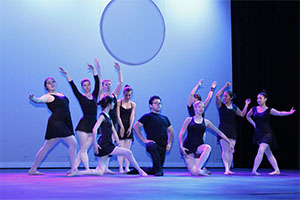 LSC-Montgomery's growing dance department offers students of all skill levels and backgrounds opportunities to develop technical skills, explore their creativity, and find their own personal style.
Guest artists, performance opportunities, and festival participation showcase the talented students in Lone Star College-Montgomery's growing dance department.
On Friday, October 25, from 1:30-3:30 p.m., Golden Wright, assistant professor of dance at Lamar University, will teach a master class to dance students in the Commons Building (Building A), Room 118.
"It's important for students to have a glimpse of what is being taught in university dance programs, as it introduces them to different styles, both in technical development and in pedagogy," said Tiffany Nirider, instructor of dance at LSC-Montgomery. "It's especially important for those who are interested in transferring to four-year programs. It provides opportunities for networking and gaining insight into the specifics of the curriculum."
Wright's performing repertoire includes Firebird, Cinderella, Sleeping Beauty, Swan Lake, Nutcracker, Oklahoma, and numerous other modern works of choreography. He has performed with many dance companies including Ballet Arkansas, Ballet Austin, Corpus Christi Concert Ballet, Lamar Dance Company, and the Victoria Ballet Theatre.
A native Texan, Wright started his dancing career at the age of 16 and began his training under the direction of Debbe Busby. He received his master of fine arts degree in dance from Sam Houston State University.
In November, dance students will present Mainstage Studio, a free informal dance concert showcasing both ballet and modern dance classes, as well as individual and group dance pieces. A dance from the concert will be presented in March at the South-Central conference of the American College Dance Festival held at the University of Texas at Austin. This will be LSC-Montgomery's first time to attend.
"It's always fun to witness what the students create," said Nirider. "This semester, it will be especially interesting knowing that one of the works will represent LSC-Montgomery at the conference."
The community is invited to Mainstage Studio, which takes place Tuesday, November 26, at 5:30 p.m., in the Mainstage Theatre, located in the Performing Arts Center (Building D).
LSC-Montgomery's dance program began in 2008, when LSC-Montgomery first offered Dance Appreciation. Soon after, the college added ballet and modern performance courses. Nirider, who has been involved in the world of dance for 33 years, teaches all of the dance classes
Students focus on technique and artistry, while continuing to explore their creativity and find their own personal style. Students of all backgrounds and levels are welcome to enroll.
"It is truly magical when students of all ages, backgrounds, and styles come together to create a unified movement of dance art," added Nirider. "I strive to foster a safe environment in which students can develop self-expression freely through movement."
For more information about the dance program, contact Tiffany Nirider at
Tiffany.R.Nirider@LoneStar.edu
, or (936) 271-6236.
For more information regarding the Mainstage Studio dance concert, contact Fong Chau, program coordinator for theatre and fine arts at LSC-Montgomery, at (936) 273-7021, or
Fong.T.Chau@LoneStar.edu
.
LSC-Montgomery is located at 3200 College Park Drive, one-half mile west of Interstate 45, between Conroe and The Woodlands. For more information about the college, call 936.273.7000, or visit
www.LoneStar.edu/montgomery
.
Lone Star College System has been opening doors to a better community for 40 years. Founded in 1973, LSCS remains steadfast in its commitment to student success and credential completion. Today, with 78,000 students in credit classes, and a total enrollment of more than 90,000, Lone Star College System is the largest institution of higher education in the Houston area and the fastest-growing community college system in the nation. Dr. Richard Carpenter is the chancellor of LSCS, which consists of six colleges including LSC-CyFair, LSC-Kingwood, LSC-Montgomery, LSC-North Harris, LSC-Tomball and LSC-University Park, five centers, LSC-University Center at Montgomery, LSC-University Center at University Park, Lone Star Corporate College, and LSC-Online. To learn more visit
LoneStar.edu
.