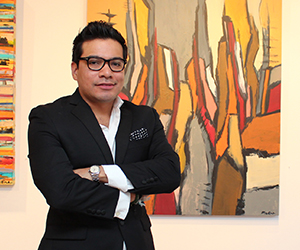 Take a peek into six years of work by artist Edgar Medina in his exhibit, "Timeline – Passage through Emotions," on display at Lone Star College-Montgomery through October 25.
Lone Star College-Montgomery is excited to host artist Edgar Medina and his exhibit "Timeline – Passage through Emotions," on display through October 25 in the Mary Matteson-Parrish Art Gallery, located in the Performing Arts Center (Building D). Discuss the exhibit with Medina during a free reception on Thursday, October 24, from 7-9 p.m., in the gallery.
While Medina has participated in art festivals throughout his career, this exhibition—his first solo show—is a compilation of six years of work by Medina, with each piece representing a specific time and emotion in his young career.
"The show is refreshing in the sense that Medina is a young practicing professional artist," said Robby Wood, art professor at LSC-Montgomery. "That is always good for students to encounter. They're able to get a sense of where he is as an artist at this very moment, and it is not always common to gain that perspective in the gallery setting."
A large collection of colorful paintings is laid out in the gallery in a progression to showcase the development of the artist. Medina's bold use of color and stroke portrays strength and perseverance through life's trials and tribulations.
"At an early age, I learned to never take anything for granted," said Medina. "At birth I was diagnosed with a serious lung disease, which meant many childhood days confined to a hospital room in Tamaulipas, Mexico."
It was during that time that Medina's parents introduced him to the world of creative art.
"That provided me with great strength and solace," he said. "From crayons and coloring books to painting on canvas, I realized I possessed a natural talent for artistic expression, a passion that continues to grow in me."
Medina's originals have been showcased in galleries in New Orleans, Chicago, Santa Fe, and Los Angeles. His art has enabled him to support many worthwhile causes in the community, including the Teen Health Coalition with Baylor College of Medicine, American Cancer Society's VICTORY Houston, and the Muscular Dystrophy Association-Houston Metro, which earned him a 2013 Volunteer Service Award from Volunteer Houston.
"From the beginning, it has been a journey for me to get to a place where I can feel confident in my work," said Medina. "As a self-taught artist, I have gained the ability to learn from my mistakes and use them to discover new techniques. The value in my struggle is the final composition of my artwork."
In the summer of 2012, Medina opened his own gallery space inside Montrose design house Native Citizen. He maintains his creative studio at Winter Street Studios in the storied First Ward Art District in Houston.
The Mary Matteson-Parrish Art Gallery is open Monday through Friday, from 10 a.m. to 5 p.m. For more information about this exhibit and more at LSC-Montgomery, contact Fong Chau, program coordinator for theatre/fine arts at LSC-Montgomery, at (936) 273-7021, or
Fong.T.Chau@LoneStar.edu
; or visit
www.LoneStar.edu/theatre-montgomery
.
LSC-Montgomery is located at 3200 College Park Drive, one-half mile west of Interstate 45, between Conroe and The Woodlands. For more information about the college, call 936.273.7000, or visit
www.LoneStar.edu/montgomery
.
Lone Star College System has been opening doors to a better community for 40 years. Founded in 1973, LSCS remains steadfast in its commitment to student success and credential completion. Today, with 78,000 students in credit classes, and a total enrollment of more than 90,000, Lone Star College System is the largest institution of higher education in the Houston area and the fastest-growing community college system in the nation. Dr. Richard Carpenter is the chancellor of LSCS, which consists of six colleges including LSC-CyFair, LSC-Kingwood, LSC-Montgomery, LSC-North Harris, LSC-Tomball and LSC-University Park, five centers, LSC-University Center at Montgomery, LSC-University Center at University Park, Lone Star Corporate College, and LSC-Online. To learn more visit
LoneStar.edu
.