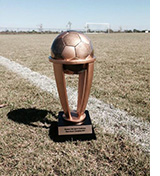 Under the leadership of Coach Ronnie Nespeca, Lone Star College-CyFair Men's Soccer Team has kicked their way to the title of 2013 Champions of the Houston Club Sports Conference (HCSC.)
For 9 of the last 10 years, LSC-CyFair has reached the HCSC playoffs, an 8-week conference consisting of 12 teams from across the greater Houston, but the title has eluded them until now. Finishing the regular season with a 4-1 record and second place overall, LSC-CyFair were the "comeback kids" this past weekend.
The semi-final game Oct. 18 was a back and forth battle against Houston Community College-Central with LSC-CyFair tying it up three times in the first half alone. In extra stoppage time with 15 seconds remaining, LSC-CyFair was ahead 5-4 until HCC-Central's penalty kick awarded for a shot that got an LSC-CyFair defender a red card tied it up with no time on the clock.
"Playing with only 10 players due to the red card, LSC-CyFair persevered with heart and determination and scored in the third minute of overtime," said Nespeca. "They were able to hold off HCC-Central for the 20 minutes of overtime to a 6-5 victory and advance to the finals."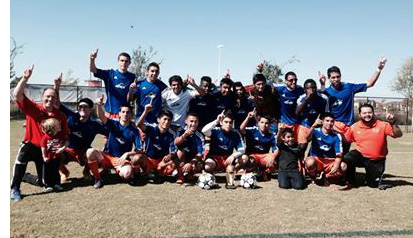 After falling behind 1-0 in the first half against LSC-North Harris in the finals, LSC-CyFair not only scored 2 goals in the second half, but held their lead to the end winning 2-1.
"Sunday was another hard fought battle between two great teams, but LSC-CyFair found the resolve and the will to work together as a team to come from behind and become victorious gain."
With this HSCS championship victory, LSC-CyFair advances to regional play Nov. 1-3 in San Marcos at Texas State where they will be matched against teams such as Texas A&M, Texas Tech, Texas, LSU and Oklahoma.
For more information, contact Nespeca at 281.290.3289.