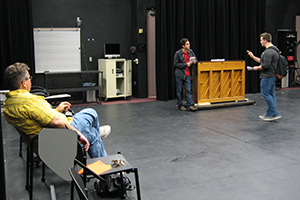 Actors Victor Suarez (center) and Ethan Derryberry (right) rehearse their initial scene from Dog Sees God: Confessions of a Teenage Blockhead, while given direction by Chase Waites, director and department chair at LSC-Montgomery. Students in the college's theatre fraternity are producing most all aspects of the play, which runs November 21-23.
Students in Lone Star College-Montgomery's Delta Psi Omega theatre fraternity present Dog Sees God: Confessions of a Teenage Blockhead by Bert V. Royal November 21- 23, at 7 p.m. each evening, with a matinee performance on November 23 at 3 p.m. This show takes place in the Black Box Theatre, which is located on the second floor of the Performing Arts Center (Building D).
General admission tickets are $5; however, two canned food items will be accepted at the box office in exchange for a ticket to the show. A portion of the proceeds from ticket sales will be donated toward the PACER's National Bullying Prevention Center (www.pacers.org/bullying), and all canned food items will be donated to the Montgomery County Food Bank.
Dog Sees God: Confessions of a Teenage Blockhead is the first of two productions in the Actors Workshop series, a long-running tradition at LSC-Montgomery allowing students to take a hands-on approach to producing and presenting a play. Delta Psi Omega students selected the show and have taken on the role of producer, while other drama students have taken on most all of the technical roles in the production.
"It is always exciting to direct the Actors Workshop production because the students are so much more involved in the production process," said Chase Waites, director and drama department chair. "As a teacher, it is great to collaborate with the student designers and really let them showcase what they have learned during their time here."
Dog Sees God: Confessions of a Teenage Blockhead is a coming-of-age drama that follows the classic Charles Schultz Peanuts characters as they enter their teenage years and deal with many real-life issues of tolerance, individuality, love, and death. While the show does not directly relate itself to Schultz's classic gang, the many allusions and references guide audience members to make their own connection.
However, audience members should not anticipate a happy comic strip, as the show tackles issues of drug use, suicide, eating disorders, teen violence, rebellion, sexual relations, and identity.
"Audience members should enter the theatre with an open-mind and be cautioned," said Waites. "This play is not for the faint of heart. The characters do use expletives to get the point across. However, the play is full of heart and ultimately, offers lots of laughs and a good deal to contemplate."
The show was first presented in 2004 at the Off-Broadway Barrow Street Theatre. Since then, it has been produced at several festivals, companies, and educational institutions around the world. The show is popular among college students because the characters fall into that age range.
"The play is wildly hilarious, sad, and ultimately tragic," said Waites. "A play like this calls for the actors to greatly empathize with the characters without being overly sympathetic. One of the challenges for our young actors is the wide emotional range the play encompasses."
"The students, however, have attacked the material with great verve and gusto," he added. "I knew the students were excited about this project when auditions had the highest turnout of any play or musical in the past eight years."
Audience members should be advised that this show contains adult content and has the rating NC-17. No children under the age of 17 will be admitted.
For information about tickets or the show, contact Fong Chau, program coordinator for theatre/fine arts at LSC-Montgomery, at (936) 273.7021 or Fong.T.Chau@LoneStar.edu. Tickets can also be purchased online at www.LoneStar.edu/Theatre-Montgomery.
LSC-Montgomery is located at 3200 College Park Drive, one-half mile west of Interstate 45, between Conroe and The Woodlands. For more information about the college, call 936.273.7000, or visit www.LoneStar.edu/montgomery.
Lone Star College System has been opening doors to a better community for 40 years. Founded in 1973, LSCS remains steadfast in its commitment to student success and credential completion. Today, with 78,000 students in credit classes, and a total enrollment of more than 90,000, Lone Star College System is the largest institution of higher education in the Houston area and the fastest-growing community college system in the nation. Dr. Richard Carpenter is the chancellor of LSCS, which consists of six colleges including LSC-CyFair, LSC-Kingwood, LSC-Montgomery, LSC-North Harris, LSC-Tomball and LSC-University Park, five centers, LSC-University Center at Montgomery, LSC-University Center at University Park, Lone Star Corporate College, and LSC-Online. To learn more visit LoneStar.edu.