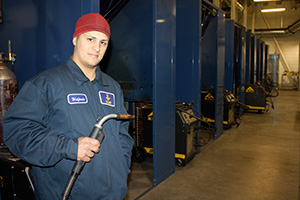 Wilfredo Martinez received hands-on training and intensive, on-site advising while earning six welding certificates at LSC-Conroe Center. Grant funds from Accelerate Texas helped him with books and materials.
Lone Star College-Conroe Center is placing students on a fast track to a new career at little or no cost— thanks to the continuation of the Accelerate TEXAS Projects grant from the Texas Higher Education Coordinating Board.
Originally awarded in 2010 to enhance developmental education at Lone Star College-Montgomery, a portion is being used at LSC-Conroe Center to accelerate students through adult basic education or college-readiness programs and equip them with workforce training needed to be a marketable employee in a variety of fields.
Those interested in learning more are encouraged to attend a free presentation on Wednesday, November 13, from 12-1 p.m., at LSC-Conroe Center in Room 105.
Wilfredo Martinez received grant funds earlier this year and completed six welding certificates, including Gas Metal Arc Welding I and II, Gas Tungsten Arc Welding I, and Shielded Metal Arc Welding I and II. He has been employed at BAUER Manufacturing Inc. in Conroe since he finished classes in June.
"I had wanted to be a welder for a while, and the grant helped me a lot with books and materials," said Martinez, who lives in Willis. "Now I have a career that provides benefits, life insurance, and a very good living."
Recipients of grant funds build core skills in math, reading, and language during a required contextualized support skills course. Students also benefit from intensive, on-site advising to keep them focused and on-track for completion.
"I use the math skills (learned in the course) every day in my measurements at work," Martinez said. "I have much more knowledge than I had before."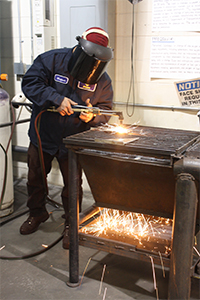 After receiving grant funds from Accelerate Texas, Wilfredo Martinez earned six welding certificates at LSC-Conroe Center and is now employed at BAUER Manufacturing Inc. in Conroe.
According to Georgetown University's Center on Education and the Workforce, at least 60 percent of Texas jobs will require a career certificate or college degree by 2020, and 44 percent of Texans over age 25 have never been to college, let alone earned a credential. THECB created Accelerate TEXAS in response to the growing demand for adult basic education services at a time when Texas needs more of these students to transition to college-level degree and certificate programs.
A variety of career certificates are available through the grant, including Certified Nurse Aide, Electrocardiograph Monitoring Technician, Phlebotomy, Machining, and Welding. The programs are offered at LSC-Conroe Center, Lone Star College-North Harris, Lone Star College-Tomball, and Lone Star College-Victory Center.
Applicants will complete an adult basic education (TABE) test, which is offered at LSC-Conroe Center and local Workforce Solutions offices. Candidates are selected based on the range in which their test score falls. Additional requirements for all healthcare certificates include a background check, immunizations, and a Social Security card.
For more information, visit www.LoneStar.edu/abeinnovation; or contact Martha Neely, grant project director at LSC-Conroe Center, at
Martha.L.Neely@LoneStar.edu
, or (936) 521-4530; or Tameka Robinson, transition coordinator at Lone Star College-Greenspoint Center, at
Tameka.R.Robinson@LoneStar.edu
, or (281) 260-3581.
LSC-Montgomery is located at 3200 College Park Drive, one-half mile west of Interstate 45, between Conroe and The Woodlands. For more information about the college, call 936.273.7000, or visit
www.LoneStar.edu/montgomery
.
Lone Star College System has been opening doors to a better community for 40 years. Founded in 1973, LSCS remains steadfast in its commitment to student success and credential completion. Today, with 78,000 students in credit classes, and a total enrollment of more than 90,000, Lone Star College System is the largest institution of higher education in the Houston area and the fastest-growing community college system in the nation. Dr. Richard Carpenter is the chancellor of LSCS, which consists of six colleges including LSC-CyFair, LSC-Kingwood, LSC-Montgomery, LSC-North Harris, LSC-Tomball and LSC-University Park, five centers, LSC-University Center at Montgomery, LSC-University Center at University Park, Lone Star Corporate College, and LSC-Online. To learn more visit
LoneStar.edu
.