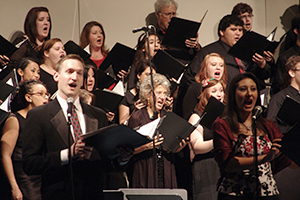 The entire family is invited to join LSC-Montgomery in giving back to the community during the annual Holiday Benefit Concert, on Thursday, December 5, at 7:30 p.m., in the Performing Arts Center (Building D).
The concert will feature traditional carols, familiar tunes, and upbeat holiday favorites performed by the college's choirs, Symphonic Band, and Symphony Orchestra under the direction of Dr. Eiki Isomura, Kris Chapman, and Dr. Mark Marotto, all professors of music at LSC-Montgomery.
All ticket proceeds and contributions will be donated to Interfaith of The Woodlands, a faith-based organization that brings people together to build a more loving and caring community through service.
"The organization plays such an important role in bringing aid to our local community," said Marotto, who also serves as the director of choral activities at LSC-Montgomery. "It's an absolute pleasure to partner with them once again for our annual holiday concert."
This is the eighth year that holiday concert proceeds have been donated to a local non-profit organization and the fifth year that LSC-Montgomery has partnered with Interfaith of The Woodlands.
"Interfaith of the Woodlands is delighted and honored to be the recipient of the proceeds from the holiday choir concert," said Dr. Ann Snyder, CEO and president of Interfaith of The Woodlands. "We are appreciative of the support shown to our community by LSC-Montgomery as we continue to serve our families in need this holiday season."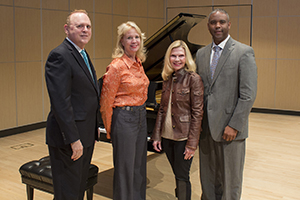 LSC-Montgomery will continue its tradition of donating all proceeds and contributions from the Holiday Benefit Concert to Interfaith of the Woodlands. The concert is December 5. Pictured from left to right are Dr. Earl Holt, department chair of music and dance at LSC-Montgomery; Dr. Deborah Ellington, dean of instruction at LSC-Montgomery; Dr. Ann Snyder, CEO and president of Interfaith of The Woodland; and Dr. Austin Lane, president of LSC-Montgomery.
According to Snyder, Interfaith of the Woodlands is an "incubator" for the community's social services and congregations, serving as a resource hub for the entire community. The organization works with member congregations, corporations, local businesses, individuals, non-profits and community organizations in order to make a difference in as many lives as possible.
Interfaith of the Woodlands helps individuals in crisis through financial assistance for rent, mortgage, utilities, gasoline, prescription drug assistance, emergency shelter, food, family and individual counseling, job training, senior programs and child care.
Tickets for the holiday concert cost $10 for general admission and $5 for LSC-Montgomery faculty, staff, and students. Additional donations will be accepted.
To purchase tickets or to make a donation, contact Fong Chau, program coordinator for fine arts at LSC-Montgomery, at (936) 273-7021. Tickets can also be purchased online at www.MyCommunityEvents.com. For more information about Interfaith of the Woodlands, visit www.woodlandsinterfaith.org.